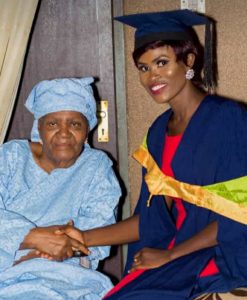 The final burial of Madam Selina Aduke Mopelola Popoola (Nee Olurin) starts on Wednesday December 4, 2019 with Service Of Songs at her residence, Oremeji Close, Alexander Area, Apata, Ibadan. Starting from 5pm.
According to Prof. Tope Popoola, Christian Wake Keep comes up from 5pm on Thursday, December 5, 2019 at Oronna High School, Oke-Ela, Ilaro, headquarters of Ogun West.
Final Burial Church Service holds from 10am on Friday December 6, 2019 at the Cathedral Church Of Christ, Ona-Nla Quarters, Ilaro.
Interment takes place at the Church cemetery, Ilaro, while entertainment of guests follows immediately at Egbado College Ground, Ilaro.
Late Madam Mopelola Popoola was born into the Olurin family of Modeolu Quarters, Ilaro on September 21, 1933.
Her mother (of blessed memory) was a popular trader and businesswoman of repute. Her maternal grandmother had the title of Iya Suna, (an indication that she had a Moslem linkage) she was from Gbagura in Egbaland.
Young Mope did not live with her mum at Isaledomo Quarters in Ilaro as she was always with the Olurins at Modeolu, Ilaro.
Her Uncle – Chief M.A.O. Olurin, the Agoro of Ilaro (the father of Gen. Adetunji Idowu Olurin rtd.) who was educated and was a Court Magistrate showed special interest in her and influenced her upbringing.
Young Mopelola initially attended a Qur'anic school (through the influence of her maternal grandmother); on intervention of her Uncle – Baba Adajo, the Qur'anic education was discontinued, and she was enrolled at Christ Church Primary School, Ilaro.
She completed her primary education in 1950. She moved around to wherever her uncle was transferred while working as a Magistrate. Despite the movements, she was able to complete her primary education at the normal time.
Soon after her primary education, she enrolled for training as a Nurse at Ilesha. However, she did not practice as a nurse (as the fiancé did not particularly like the nursing profession).
She settled for the teaching job which again she later jettisoned due to poor pay and other personal reasons. Thereabout 1952/53, she worked briefly with the Nigeria Customs Service, but again found herself in the teaching profession.
Madam Popoola taught as pupils' teacher in primary schools in Alagbon, Eredo and several other neighboring villages near Ilaro before she proceeded to Teacher Training College, Ikorodu for her Grade III teacher's training programme. On completion, she returned to work in Ilaro, Ijana and Kakanfo.
By the time she was expecting her second child, she was transferred to Eredo. She spent most of her teaching years in the 1960's and early 1970's as a pupil's teacher at Christ Church Primary School, Ilaro.
When her husband returned from his degree training programme in Germany, she relocated to Lagos to continue as a teacher at All Saints Primary School, Montgomery Road, Yaba, Lagos.
She took time off her teaching job to undertake her Grade II Teachers Certificate Course at Protestant Teacher Training College, Idi-Araba, Lagos.
In 1974, the husband left his job with the Federal Office of Statistics Ikoyi, Lagos for another appointment with Western State Industrial Investment Credit Corporation (WSIICC) and later Odua Investment Corporation.
Mama Popo had no choice, but to relocate with her husband to Ibadan. While in Ibadan she continued her teaching job at Ijaye-Orile and later at Erinkojaobe, Owode in Ido Local Government. She rose to become Vice-Head Mistress at St. Richards Catholic Primary School, Jericho, Ibadan.
Thereafter, she was deployed to CAC School, Odo-Ona Ibadan as a classroom teacher where she retired in 1986 due to age and length of service.
Mama Popo therefore taught and instilled knowledge in pupils in parts of Ogun, Lagos and Oyo States.
To the glory of God, it was a thing of joy to note that most of the pupils that passed through her are doing well in their chosen careers. Her contributions towards the building and moulding of pupils to prepare them for challenges of adult life makes her a happy person.
Despite her love for the teaching profession, she was involved in the art of buying and selling at grassroots level to support her income and fulfill family commitments. A vocation she eventually retired into.
According to her "buying and selling is in the family". Her uncle, Chief M.A.O. Olurin was the first major distributor of G & M in Ilaro. Her mother too was a renowned trader in stock fish.
Her up-bringing was in an environment full of love and fear of God. Every member of the larger Olurin family is encouraged to imbibe hard work for realization of any ambition.
This probably is why the family has produced many off springs that are doing well in their chosen careers. She is happy that the Olurin family is closely knitted. She is proud to have emanated from the family.
Married to Bode Popoola (of blessed memory), the marriage is blessed with five children. To the glory of God, they both trained scores of children of other family members.
Late Madam Popooola in her last daysShe will want to be remembered as a good wife and mother who sacrificed "everything" to ensure a stable family as well as someone blessed by God with good children (biological and others) who are doing well in their chosen professions and took good care of her at old age.
Mama Popo (as she was fondly called) was an active member of the Redeem Christian Church, Apata, Ibadan. She hosted Sunday Evening prayer session at her residence for many years.