By Abiola Rufai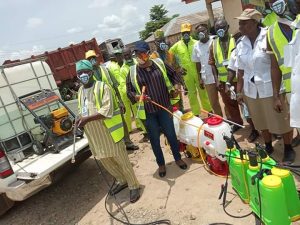 ILARO-YEWA: The authority of Yewa South Local Government in Ogun State led by the council's Transition Chairman, Alhaji Rahmon Bode Fagbenro has fumigated major public and private facilities, including market places and motor parks within the council area.
The fumigation exercise according to the council Boss was in line with the state Governor's directive, Prince. Dapo Abiodun that every nooks and crannies of the state should be fumigated in order to curb spread of the contagious coronavirus disease.
His words, "It is very important that we fumigate every communities at this period. The exercise which is inline with His Excellency, Prince Dapo Abiodun's directive will go a long way at curbing the further spread of Covid – 19.
"This fumigation exercise will cover every communities in Yewa South, especially public and private facilities. The fumigation will also be extended to market places, major roads, community streets and drainages and so on".
The Local Government Chairman while commending citizens of the council for obeying the stay at home order, urged them to always adhere to the government medical advice on prevention of the pandemic dicease by maintaining social distancing, hand watching and ensure that their environment is clean at all times.
In the same vain, the State House of Assembly member representing Yewa South State Constituency, Hon. Lateefat Bola Ajayi, who also monitored the fumigation exercise, lauded the state Governor for the good idea while pointing out that the exercise aside curbing the spread of COVID-19, will further disinfect the environment and kills other germs and diseases.
Hon. Ajayi also advised citizens of the area to abide with the government medical advice and follow rules guiding prevention of coronavirus.