By Abiola Rufai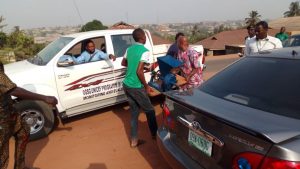 ILARO-YEWA: Towards maintaining hygienic and healthy environment, the Yewa South Transition Chairman, Alhaji Ramon Olabode Fagbenro has promised to make available, necessary sanitation equipments that would make the monthly environmental sanitation in the area more effective.
Alhaji Fagbenro made the promise while monitoring this month environmental sanitation alongside the Permanent Secretary, Ogun State Ministry of Budget and Planning, Mrs. Oluwafunmilayo Dada in Ilaro, the headquarters of Ogun West.
According to the Chairman, "there has been laxity among the people, but with the cooperation of police and the environmental officials from the state, things went well. We were able to make some arrest to enforce law and order at ensuring that we feel the impact of the sanitation.
"By the grace of God, next sanitation will be much more better and equipments will be available for the exercise. I will implore our people to cooperate with the local government officials in order to ensure smooth and effective sanitation exercise".
On her own, the Permanent Secretary, Mrs. Oluwafunmilayo Dada pointed out that the presence of the law enforcement officers from both the state and the local government made the exercise more effective, adding that many people of the council area turned out for the cleaning activities.
Her words, "So far, there has been a bit of compliance as a result of the presence of officials from the state and local government, including the police force that joined us. Atleast, we were able to enforce the monitoring of the environmental sanitation.
"I am sure by next month, it will be a different story, because today they felt the presence of the government.
"My advice to our people is for them to stay indoor and do the needful between 7am and 10am and after 10am, the exercise is over. It's for the good of everyone of us".