By Abiola Rufai
ILARO-YEWA – The Transition Chairman of Yewa South Local Government area of Ogun State, Alhaji Rahmon Olabode Fagbenro has promised to implement policies that would aid sports talents among youths.
Olabode gave the assurance while paying host to the Council's Team that represented the Local Government at the 2020 Governor's Cup sporting competition, organized early this year in Abeokuta.
He stated that his administration would implement policies that would make sports more attractive, especially to the youths, with a view at enabling them to develop their talents and make sport a veritable means of livelihood for them.
Represented by his Vice, Hon. Samson Salako, the Council Chairman charged youths to shun acts capable of jeopardising their future and channel their energy in positive endeavours that would guarantee them a better and rewarding future.
"I am very happy that you represented our Local Government very well. You gave good account of yourselves and at the end you came back with some medals. I am very proud of you all.
"Let me use this opportunity to assure you, that we will not relent at developing sports in Yewa South Local Government and we will also continue to encourage and reward sports talents. I implore you to shun all forms of social vices and continue to channel your energy on positive things that will guarantee you a better, brighter and rewarding tomorrow", he advised.
Congratulating the team, the Council's Head of Local Government Administration (HoLGA), Ms Olasubomi Ayorinde urged them to be steadfast and remain focused, stating that with dedication they could become world stars and earn good living from sports.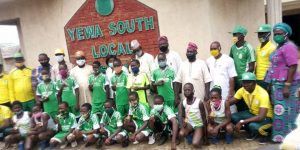 Ms Ayorinde who praised the team's coach for his efforts at scouting the young athletes and footballers across the primary schools in the Local Government, implored him and his crew to nurture them to stardom.
Speaking earlier, the leader of the contingent, Mr. Bolaji Olusanya who is also the Sports Desk Officer at the Local Government Education Authority, thanked the authority of the Yewa South Local Government for the support given to the team during and after the competition.
He pointed out that the team won bronze medal in football competition, gold in female 100 metre race and another bronze in female 100 metre relay race.