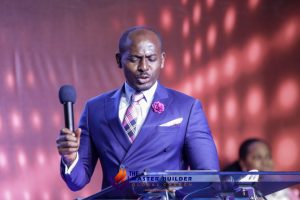 ENUGU – Members of the Master Builders Global Church (MBGC), Headquaters, Enugu has condemned the demolition of their place of worship by the Enugu Capital Territory Development Authority (ECTDA).
According to a reliable source, the church which was situated inside GRA, Enugu was allegedly ordered for demolition by Mr Ken Umunnakwe Onoh, the Executive Chairman of ECTDA and son to the former Governor CC Onoh of the old Enugu and Anambara State who is also Mrs. Bianca Ojukwu's father.
It was gathered that all efforts to prevail on the authority of ECTDA proved abortive as there was no proper official notice for removal or complaint or a court order before the demolition which was carried out by 10:a m on Wednesday, August 12, 2020.
Mr Kenneth Onoh who was quoted as saying that "I want every Church structure in G.R.A to be marked as a commercial structure and demolished". But members of MBGC however frown on the double standard of ECTDA, saying the same GRA is also saturated with multiple Guest houses, Hotels and Night Clubs.
It was also scooped that Chairman of the Capital Territory, Mr Kenneth Onoh is also the owner of a night club named Voodoo Lounge, situated a few kilometers away from MBGC church.
Members of the church also lamented that they were not given any opportunity to removed valuable items of the church, including music and public address systems, all running into millions of naira.
Observers of the scene however described the act as barbaric and that every body of Chist should raise their voice against this ungodly act."
The MBGC Church however call on Christiansl across Nigeria to raise up there voice against this act of intimidation against the body of christ, saying, "Injustice anywhere is a threat to justice everywhere."