---
---
Cyprian Madaki is a budding gospel music crooner based in Kaduna. In this no-hold-barred interview with Ziniyet Godwin Hilary, the Jos-born dude open up on his journey in the gospel music genre and other sundry issues. Excerpts.
What type of music do you play?
I play Christian Hip-hop
Were you trained to be a musician?
(Smiles) I just found myself doing it. My music started way back from my mother's womb.
Where is your inspiration coming from?
My inspiration comes from…., I would have said life experiences but then God put me into every situation in life for a reason, so yeah my inspiration comes from God.
After God, what inspires you again?
After God? My family and friends inspire me.
What's the reaction of your audience to your kind of music?
Impressive, they love my music; I get testimonies that make me cry several times, God is using me to bless a lot of lives out there with my music.
Have you recorded any album since you started?
No Album yet.
Why have you not released an album?
I work with my spirit sir; what I am cooking is something very powerful that the world will forever remember..So when the spirit is ready,I will answer the glory call then my album will drop.
What are the messages in your music and to which segment of the society they are directed to?
The main message in my music is hope and determination, encouraging people never to give up. I believe in change, I believe in a better tomorrow. I believe in the future of every youth out there, and most of my songs are directed to them.
Have you featured in any live concert and where?
Yes, at the Royalty Concert in Kaduna state of Nigeria and the Easter Monday Concert by the Catholic Youth Organisation of Nigeria in Kano state.
What is your ambition in the industry?
(Smiles) Wow! Well I just wanna make good music that will last a lifetime, wanna write my name in history, use the power of music to liberate and change the world and also the mentality of some artist in the industry.
Do you plan for collaboration with any artiste?
Yes I do. A lot of them!
Can you name any three?
(Smiles) Jon Bellion, Asa and Poe
How would you describe the Gospel music industry?
It is beautiful and amazing.
Where do you want to be in the next five years?
I wish to be on top of the world, doing the kingdom business, winning souls and recruiting more soldiers for Christ.
Do you plan on leaving the Gospel scene?
(Laughs) there is greater gain in working for God, I can't even imagine myself leaving the Gospel scene.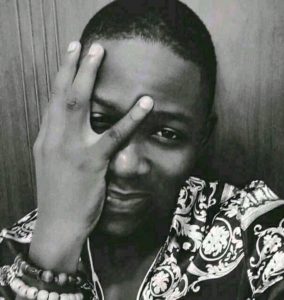 Who are your favourites in the Nigerian music and movie industry and in the international?
In Nigerian music I have plenty of them because there are alot of artists who make good music, so if you make good music then you are my favourite ,and in the movies, well I don't do Nigerian movies but Alex Ekubo, and Ruth Kadiri are my favourites then Idris Elba on the international scene and Terrence Howard and Taraji P Henson are also my favourites.
Are you in any relationship?
Yes, with God and my music.
Wow! Why are you avoiding the question here?
(Laughs) Am I?
Yeah!
I am not sir
We are growing very fast, the love, the respect, the presence of God in us and the spirit filled music is something else, I mean Gospel Music in Nigeria is amazing!
What do you like and dislike in people?
I love everybody, but dislike the fact that some people choose not to remember that we all humans:
What is your best color, food, and drinks?
(Smiles) My best colours are Black and White, my favourite foods are Pate (an indigenous food) yam and egg sauce and fried rice with salad Drinks, I love wine a lot.
Can you tell us about yourself?
My name is Cyprian Madaki with the stage name Cypzy, born in Jos Plateau State of Nigeria, rose in Kaduna state of Nigeria and started making music in Kaduna; I'm the only child of my mother and a graduate from the Department of Economics and History in the Kaduna State College Of Education, Kafanchan.

Music has been part of my life, my mum and her siblings were all making music and that's how I found myself doing it too.
Thank you Cypzy for your time, it was quite a moment with you. We hope to do more of this with you some other time.
Thank you too and God Bless you, I enjoyed every bit of this wish to do it again with you too. Ciao!!