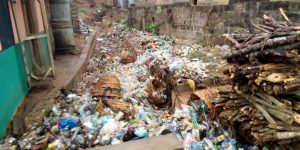 ISARA-REMO: Residents of Sabo-Isara, in the Remo North Local Government Area, have been warned to desist from illicit dumping of refuse that could lead to devastating effects of flood disaster in the coming raining season.
According to a press release e-signed and made available to StarTrend Int'l magazine & www.startrendinternational.com by Akinyera B., Information Officer, RNLG, Isara, the warning was given by the Local Government Chairman, Transition Committee,, Hon. Michael Abiodun Somoye, when he led other Committee members  and Principal officers of the Local Government, to an  on the  spot assessment of flood disaster that ravaged Sabo- Isara town, recently.
Hon. Somoye strongly affirmed the readiness of his administration to punish anyone found guilty of improper disposal of waste, especially, in the water ways, by paying certain amount of money to the coffers of the LG, among other punishments.
The Chairman later directed the Director of Water Supply and Environmental Sanitation, Department, (WES), to immediately evacuate refuse on the road and in the collapsed drainages, for the smooth passage of motorcyclists/motorists, as well as the pedestrians.
While interacting with the people of the town, the Head of Local Government Administration, (HOLGA), Mrs. Bola Oshin, advised them to stop the practice of dumping of refuse carelessly, which often led to annual flooding, in the local government area.
She, thereafter, instructed WES dept to take appropriate action against owners of houses without toilets & other environmental contraventions.
No lives were lost as a result of the flood disaster