IMEKO-AFON: Imeko Afon Local Government, under the leadership of Hon. Olusola Oke, has commenced the reconstruction of Enubode,  Oke-Papa, Afon township roads, in the local government area.
According to a press release e-signed and made available to StarTrend Int'l magazine & www.startrendinternational.com by Ladipo Lolade Peculiar, Information Officer II, Imeko Afon Local Government, the Chairman, Transition Committee, while inspecting the level of project execution, in the local government area, intimated the people that the projects were borne out of his passion to ensure smooth vehicular movement of goods, in order to enhance economic activities in the Local  Government.
In an interview with the local government Director of Works and Housing, Engr. Z.D.  Ogunsola, he disclosed that the road projects were in two stages, involving the grading of the roads and overlaying them with laterite.
Engineer Ogunsola further assured the people living in the area that the township road projects would be completed within the stipulated delivery date.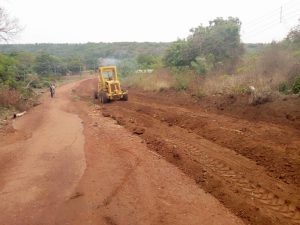 Accompanying the Chairman to the projects sites, were the Secretary to the Local Government, Hon. Olalotan Olusegun, Head of Local Government     Administration, (HOLGA), Tajudeen Olusesi, Director of Works and Housing, Engr..  Z. D Ogunsola, Director of Information, Mrs. Oluyemi Ajayi, and other Heads of Department of the Local Government.