By AbuSatar Hamed
CALABAR: Tina, a roadside plantain seller has been rewarded for her entrepreneurial acumen, as she was appointed Brand Ambassador by Ecobank Nigeria.
The story of Tina is that of an enterprising and industrious spirit of a typical Nigerian. She was in the category of the "certified" jobless Nigerian youths, but today, her story is an inspiration to many.
The Ecobank deal isn't the first benefit of Tina's strong will. She drew the attention of Channels TV, who interviewed her and motivated everyone with her story. She was also invited by Hit Fm, a radio station in Calabar, who also made her inspire others with her story.
Cross-River State Governor, Ben Ayade was impressed by her story and supported her with N 2Million naira, to grow her enterprise.
While some tend to relax after little breakthrough, Tina has not relented in her effort despite the success as she's still actively involved in roasting 'Boli' and telling her story to inspire others.
Tina is a graduate. Nigeria's economic situation constrained her, but she refused to be conditioned.
After school, she took up a seemingly demeaning business. She opened a kiosk, selling roasted 'Boli' by the roadside in Calabar.
Tina was not ashamed of her 'local business' as people see it, and just like all the other regular traders who advertise their products on social media, she also brought her 'Boli' business to the online community, by posting every detail of her business on her Facebook page.
Tina's local style of wearing nylon as headgear and gloves, drew attention of until some blunt commentators, who advised her to upgrade her packaging by using a fine apron and gloves to make her look more attractive. Tina heeded and subscribed to packaging. She also registered her business with CAC, and became certified with a business name – TJ boleries.
Soon after, Tina started receiving contracts and calls from different states across the country. She'd travel to states like Lagos, Portharcourt to prepare roasted 'Boli and fish' at weddings and different ceremonies. She became well-known by the big names in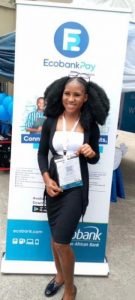 her community. She was given an award by the youths in her community for sustaining entrepreneurship in the society.
Tina's story is an indication that Nigerian youths are industrious and can excel regardless of the situation around them. Her story is that of a typical NIGERIAN SPIRIT that make other citizens of the world envy us. Many youths in Nigeria and the continent can relate and draw inspiration from her story.
She has proven that you are your only limitation.