ABEOKUTA – As part of effort to drum support for Governor Dapo Abiodun second term in office, over 200 people were empowered by Hon. Bukola Olopade Annual Empowerment Programme in Abeokuta South Local Government Area of the state.
According to a release e-signed and made available to StarTrend Int'l & online – www.startrendinternational.com by Dolapo Jinad, Press Officers OGAMB, Olopade, a former Commissioner for Youth and Sports Annual empowerment Programme, was initiated by him as part of socio-economic support for Dapo Abiodun Second Term in Office.
The empowerment tagged ( BOOM 4 DA2) , held at Car- Wash Adatan, Abeokuta, was chaired by Alhaji Soremekun Oladeine, who said that the second edition of the BOOM 4 DA2 by the movement was targeted at further promoting the laudable achievement of the present administration across the state.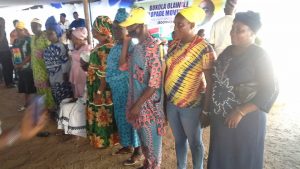 Alh Soremekun affirmed that, Hon. Olopade Annual empowerment Programme has no nothing to do with his personalty or towards selfish pecuniary benefits but to promote the agenda embedded on human dignity and well-being of the citizenry as exemplified by Governor Abiodun.
His words " let me cleare air on wave today that the founder of this group is not doing this empowerment for any gaines and he is not contesting for any political office for now. There is nothing personal to benefit from this empowerment Programme , it's just a pure humanitarian service to support Prince Dapo Abiodun for second term in Office.
He noted further that things are some how tight for people all over the world due to COVID -19 Pandemic which had technically crippled global economy, saying the masses are seriously feeling the effects so we feelt as a Stakeholders and friend of government of the day we can support the Government in our own ways by empowering people at our various Local government.
The Chairman Abeokuta South Local Government, Hon. Omolaja Majekodunmi, who was represented by one of the Councilor , Hon. Latifat Oladosun , commended the initiative and efforts of Hon.Bukola Olopade, for supporting the present administration. He prayed that God will continue to uplift him to greater heights.
Also speaking, one of the beneficiary of the empowerment , Mrs. Sodunke Ajani, a trader from Itoku market, appreciated the movement for the empowerment and urged them to continue the programme and noted that it would provide a great relief for hundred of thousands of people in the state.
Another beneficiary, Mr. Omotayo Oluwole from word 5 Abeokuta South , said his was very grateful to the movement of Hon. Bukola Olopade for his ingenuity of giving back to the society and assured on behalf of other beneficiaries that they are going to utilize the empowerment for their betterment.
Speaking, another beneficiaries, Miss. Bukola Amosun, a student from ward 15 and Mrs Iyabode Adesanya from ward 3 ,in there seperate appreciation, lauded the effort put in place by Hon. Bukola olapade and his team for spreading the humanitarian programme across the 15 wards of the council and also for not consentrated only on politicians alone , urging other well to do in the in the state to emulate BOOM 4 DA2 Initiative.