President Buhari's second tenure is secured, barring any last minute verdict by the courts, but yet to kick off fully until May 29th, however, we are beginning to pick up unmelodic cacophonies emanating from the shadowy backstreets about 2023 and beyond.
According to reports, the Deputy Secretary-General of the United Nations (UN), Amina Mohammed, has claimed a woman will likely succeed President Muhammadu Buhari in 2023.
Ms. Amina J. Mohammed was Minister of Environment of the Federal Republic of Nigeria from November 2015 to December 2016, where she steered the country's efforts on climate action, protecting the natural environment and conserving resources for sustainable development.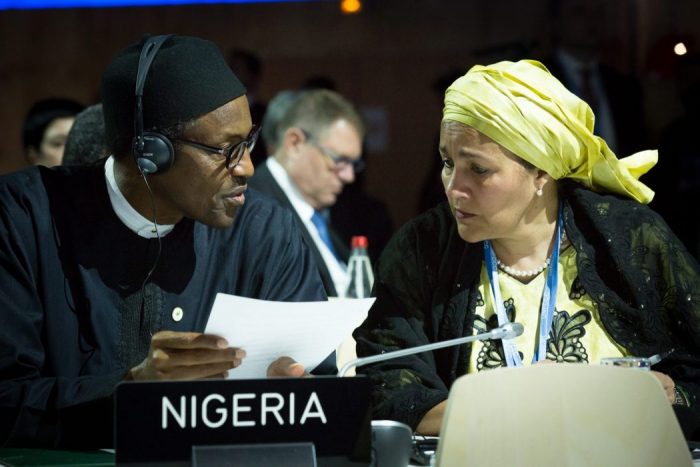 Prior to this, she served as Special Adviser to Secretary-General Ban Ki-moon on Post-2015 Development Planning, where she was instrumental in bringing about the 2030 Agenda for Sustainable Development, including the Sustainable Development Goals.
Before joining the UN, Ms. Mohammed worked for three successive administrations in Nigeria, serving as Special Advisor on the Millennium Development Goals, providing advice on issues including poverty, public sector reform and sustainable development, and coordinating programmes worth $1 billion annually for MDG-related interventions.
The former Minister of Environment stated this on Saturday, while speaking at the Mo Ibrahim governance weekend in Abidjan. In a conversation with Mo Ibrahim, Amina Mohammed was asked when Nigeria will have a female president, she replied saying: "2023, Insha Allah".

When asked if she would be running, she said: "Look, all of my life has been as a public servant and as one that serves, so that is not a problem for me.
"But let me be truthful here, I have always thought that I am appointable and not electable. I think the political system that we have in our country, I believe in democracy, but I think the model for us, where we are is an incredibly difficult environment to say you would come to office through the will of the people.
"I think the manipulation of democracy is a very serious issue in our countries. We have a population, as I said, has a level of literacy that can be manipulated, that is not right."

With all these in mind, it is obviously going to be a tough one for the All Progressives Congress APC and The Peoples Democratic Party PDP.

Prior to the 23rd February 2019 presidential elections, the PDP had just 12 states under its umbrella.
They include: Enugu, Akwa Ibom, Ebonyi, Cross Rivers, Rivers, Bayelsa, Delta, Abia, Sokoto, Benue, Kwara, and Gombe states.
And like a political party prepared to democratically take over power, bounced back with some upsets.
It won in Adamawa, Bauchi, Oyo and Imo states, even though it lost Kwara and Gombe to the ruling APC.
Cumulatively, the PDP now has 14 states, this is more than what they had before the 2019 elections.
Political observers are of the view that with the number of states under the PDP control, the party's chances in 2023 appears brighter.
It is further contended that winning strategic states like Oyo, Sokoto, Adamawa and Bauchi remains an added advantage for the party.
Also, likely going to work in the interest of the party in 2023 elections are two former presidents produced by the PDP–Chief Olusegun Obasanjo and Dr. Goodluck Ebele Jonathan.
Like they did in the 2019 general elections, these two are likely going to subtly work in favour of their party.

Notwithstanding his public declaration that he was quitting active politics, the former president, Obasanjo, when it comes to APC and PDP, he is likely going to support candidate of its former party.
Political observers believe that contrary to people's position that the two former leaders can't win their polling units or state, they remain most influential past presidents with network of influential and loyal politicians within and outside Nigeria.
Therefore, if the PDP can sustain this relationship between Obasanjo and Jonathan, certainly the party will go along way in 2023 elections.