By Oluwaseun Fabiyi
LAGOS – Without mincing words, Phemnick Life Support has remained a household name amongst its contemporaries in the Travel and Tours industry, within Nigeria and African countries at large.
It didn't stop at that as the organization still extends its tentacles down to USA, Texas, Mexico to mention, but a few.
Thousands have benefited and still benefiting from Phemnick Life Support, even directly from the NGO's MD/CEO, Dr. Oluwatoyin and Deaconess Adenike Aborisade.
The philanthropic works of giving to motherless homes, aged men and women through the newly established Phemnick Academy which helps youths who are gifted in football to showcase their God-given talent in overseas has gotten more applause from Nigerian youths.
Widows, widowers and single mothers are not left out too as many have been empowered, either by providing equipment or funds to start small scale businesses.
It would be recalled that through Phemnick Life Support, both Dr. Oluwatoyin and Deaconess Adenike Aborisade have been touching lives and they promised to do more.
Only a few days ago, they sponsored a set of twins on a Phemnick Scholarship to Jamaica while another young man was also sponsored to Mexico as they promised to always used Phemnick Academy to help youths of their town to achieve their dreams of assistance to the less-priviledged in the society.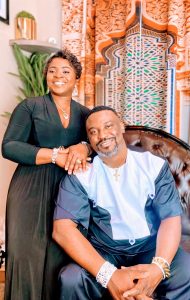 Dr. Oluwatoyin and Deaconess Adenike Aborisade, who has been so kind in all aspects of life have mutual understanding with God's backing.
Despite all these successes, the wife never departed from God's vineyard as she built a place of worship in Ilorin Kwara State while her husband also added another feat to become global Immigration Specialist.
What a kindhearted family who dedicated their times, resources in doing good, no wonder all their goodwill and antecedents speak for them in all their endeavours.
*Oluwaseun Fabiyi of BethNews, is the Media Aide to Dr. Oluwatoyin Aborisade/Phemnick Life Support.