LAGOS: The Chairman of Board of Trustees, Silicon Valley Nigeria Economic Development (SVNED); HRM Queen Aminat Temitope Ajayi has said that the Federal Government's N-Power initiative is playing a major role in engaging Nigerian youth from embarking on crimes.
Queen Aminat Ajayi, fondly called Mama Diaspora stated this recently she was presented with an award of Grand Matron of the Eagle Crime Awareness and Prevention Initiative (ECAPI) when the organisation PSID a courtesy visit to her Lagos residence.
She said, "Npower initiative by Federal Government is a good step in a right direction which most of the youth key into and benefitted.
"In similar ways, the private sector, non-governmental organization and Individuals should look for other projects to support the government so as to reduce unemployment and get youth engaged to reduce crimes"..
In her remarks, the SV-NED chairman acknowledged and appreciated founder of ECAPI, its President and Board of Management for the honour bestowed on her.
Her words, "The award is not only honourary, but an assignment given to me, as a Grand Matron and Crime Stopper says, no to all kind of crime like child labour, rape, defilement and abduction, robbery, domestic violence, fraud, sex trade, bribery and corruption as well as support, create awareness, educate and prevent crime by providing employment opportunities, skill acquisition and empowerment to everyone."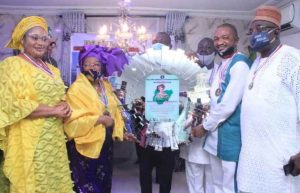 Mama Diaspora stated further that, "All those children involved in crimes are our children. My cry is for them wherever they are caught. What is causing our children to get into crimes? that's the cries of mothers."
The Founder and National President of ECAPI, Ambassador Samuel Eniola Adam disclosed that ECAPI which was registered in Nigeria on August 2016 under the Corporate Affairs Commission is a worldwide non-governmental organization, adding It works across the globe in collaboration with all the security agencies.
According to Amb.Adam, the honour is in recognition of Mama Diaspora's efforts in conflict management, crime control and corporate social responsibility, and to encourage others to emulate her love for the country.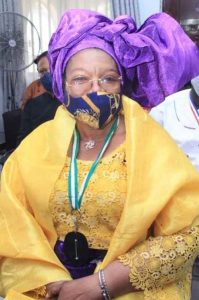 Adam was of the opinion that "security is everybody's business, and a way to undercover crime and not to fight crime with guns. It is to act as crime stoppers to give information, create awareness, educate and prevent crimes.
"Many law enforcement security agencies in Nigeria are not trained for crime awareness, enlightenment and prevention of crimes from the public."
"The ECAPI has been the only security cum non-governmental agency in Nigeria trained and involve in crime awareness, educates and prevents by providing verifiable and undiluted information to the law enforcement agencies".