BY KATE JOHNSON
Senator Solomon Olamilekan Adeola fondly called Yayi on Tuesday January 2, 2018 hosted his teeming supporters from across Ogun State.
The event which later turned to carnival was held at the country home of the aspirant who is jostling for the exalted position of Ogun State governor.
Yayi who was full of joy as a result of the multitude of his supporters was seen in company of creme of the society moving from one tent to the other exchanging pleasantries with his supporters.
The front line politician also intermittently demonstrated his happiness with some dance steps to the choruses rendered by his supporters and their bands.
In his address Sen. Adeola expressed his joy and gratitude to the Almighty God for sparing his life and family to witness the New Year 2018.
He also thanked his teeming supporters which spread across Ogun State for their love and commitment towards his governorship ambition, saying, "I want you all not to be bothered or despaired by the various campaign of calumny being employed by the opponents"
"Honestly, the continued increase of our followers across the state is no doubt giving our opponents sleepless nights: hence their resort to propaganda by cooking up fake news to detract your attention.
"The Yayi fever which now spreading like haematin fire couple with our unrelented efforts and determination have convinced the doubting Thomases that, by the Grace of God Yayi is the next governor in Ogun State, come 2019," Sen. Adeola enthused.
Yayi showered encomiums on his supporters who also came to the event in their thousands from Ogun Central and East, adding they should remain steadfast.
Yayi assured them that all the Senatorial districts in the state will be represented in his government.
Some guests from Ogun East interviewed by StarTrend Int'l magazine and www.startrendinternational.com at the event say they were in Ilaro to show their love and support for Yayi and the people of Yewaland, adding that they are solidly behind Ogun West to rule Ogun State in 2019.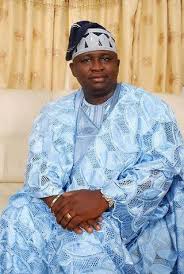 "It's annoying and aching to note that Ogun West has not rule the state since over 40yesrs. It's unfortunate that this happened to our brothers and sisters in Ogun State.
"However, we have been talking to our people in Ijebuland to allow Yewa to be the next governor in the state,"he posited.
Another supporter who came from Ogun Central admitted the marginalisation of Yewa people in the scheme of things in the state, saying, "For equity and justice we the Egbas and Ijebus should give our unflinching supports to Yayi to emerge as the next governor of Ogun State, come 2019"
The unprecedented crowd were treated to sumptuous meal with choice drinks, while two bandstands entertained them to scintillating musical rendition.