By AbuSatar Hamed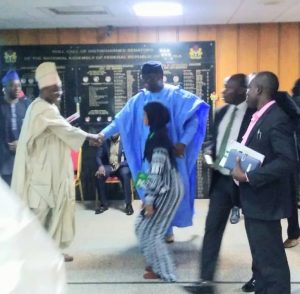 ABUJA: The newly employed Miss Ojelade Islamiyat Adenike by Sen Tolu Odebiyias Secretary at his Senate building office has expressed her gratitude to Senator representing Ogun West at the National Assembly, Abuja, for the kind gesture.
Sen. Odebiyi has recently offered Miss Ojelade Islamiyat Adenike who hails from Ibese, Yewa North Local Government Area of Ogun State a job as Secretary at his Senate building office.
While appreciating the Senator, Miss Ojelade said "The Senator was moved by my academic exploits during my convocation at Federal Polytechnic, Ilaro, there and then he promised to encourage me by offering me a job after my NYSC and also promised to send me abroad for further studies soon. Here I am resuming my new and first ever job in Abuja.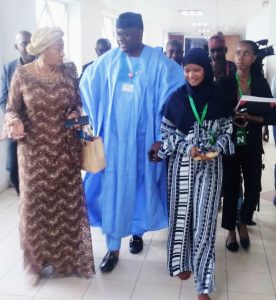 "I want to sincerely thank him for the kind gesture. I feel very happy and glad, it's a rare privilege to be employed immediately after NYSC. To be precise, four days after I finished my NYSC programme. May God bless him and reward him abundantly. You have been assisting the less privileged and students with excellent academic achievements in the state.
"I know many students and graduates have benefited from you and I'm sure many more will still receive support from you. I have nothing more to say than to tell you that God will continue to bless you Sir. Thank you so much for the opportunity."
Miss Ojelade who is from the Olopo's Compound, Ibese-Yewa resumed work on Monday October 7,2019,, four days after her NYSC Passing Out Parade.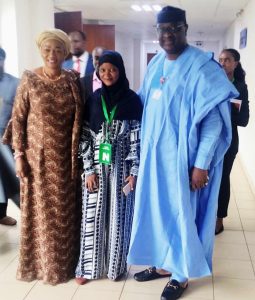 Senator Odebiyi recounted that he first noticed Miss Ojelade when she was adjudged the Best Graduating Student at Federal Polytechnic, Ilaro in 2018 and was impressed by her zeal and quest for education.
He also introduced Miss Ojelade to many of his colleagues in the red chamber, they include the former Governor of Ogun State, Senator Ibikunle Amosun, now representing Ogun Central at the Senate and Senator Remi Tinubu from Lagos Central.