By Raymond Osho
It was a dramatic moment in Oke'lewo area of Abeokuta, the Ogun State capital as an alleged prostitute threatened to kill her customer over unpaid N17,000.
At early hour of Monday, June 1, 2019, people in the area witnessed one Samuel scampering to safety amidst cry for help. His distress call caught the attention of traders, passerbyes and motorists in the area.
Our reporter who was on transit to his office spotted Samuel crying "help, help, someone is chasing me, threatening to take my life", took pity on him and asked him to join him on the bike for rescue.
While the bike was still on motion, our reporter pleaded to the motorcyclist to slow down for Samuel to join another bike that could covey him to his destination and without alacrity, he complied immediately.
Immediately after Samuel left, the alleged prostitute, simply identified as Adeola arrived the scene on a bike and explained to our reporter that the guy (Samuel) he rescued was a thief, saying, "Help me, the man stole my phone".
This got our reporter in a state of confusion and he, in company of some guys and security men, including police in the area ran after Samuel who was runing towards a deserted place within the Oke'lewo axis.
After an intensive search for him, they eventually spotted Samuel in one of the abandoned houses near the proposed Shoprite, opposite OPIC building.
Having found Samuel, another set of lancky guys also arrived the scene with the intention of beating him mercilessly to death, but while he (Samuel) was still panting profusely, he narrated what actually transpired between him and Adeola, the prostitute.
His words, "Please don't kill me, I am not a thief, the lady (Adeola) is a prostitute. I had fun with her last night on agreement to pay a service charge of N17,000. After our rounds of sex, I did a transfer of the agreed amount, but the money didn't drop due to poor service. After explaining to her, she refused to believe me, saying that I was lying and she has been chasing me around ever since", he confessed.
While Samuel was still confessing, Adeola arrived the scene on bike in a very harsh countenance, shouting "kill him, he's a thief, he must die". At this point life was almost biding Adeola's client (Samuel) farewell.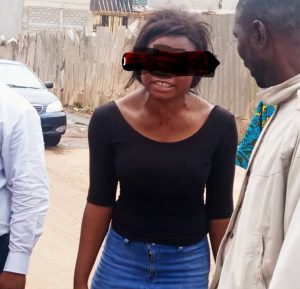 But when asked whether Samuel's explanation was genuine, Adeola however confessed that she was truly a prostitute, adding that Samuel had had fun with her a night before, but yet to pay for the service, that is why she's threatening to kill him.
However, the security personnel at the scene settled the issue amicably between the duo and Samuel was asked to go in peace.