IBADAN: Much dust was raised recently after Oyo State government said it disbursed N118m to UC, but the premier medical institution quickly fired back by claiming it hadn't received any money from the government.
Eventually, officials of the Oyo state government came out to explain that they didn't actually give money to UCH, but rather that they gave medical equipments and assistance to the institution, worth that amount.
That controversy appeared to have died down, until Wednesday, July 1, 2020, when the spokesman for UCH, Mr Toye Akinrinola, was featured on a live interview programme anchored by Isaac Brown.
During his response to questions, Mr Toye berated officials of the state government 'for trying to play smart', and their inability to differentiate between the College of Medicine, University of Ibadan, and the University College Hospital (UCH).
However, things got more interesting when Taiwo Adisa, Governor Makinde's Chief Press Secretary called live into the programme to tackle the UCH PRO. During his earlier statements, Mr Akinrinola of the UCH, implied that the state government was not sincere as regards the issue of assistance to the institution.
According to him, though the Seyi Makinde administration claimed to have given equipments worth over N25m to them, he insisted that nothing close to such had been received.
Mr Akinrinola listed items so far received from the government to include: 250 face shields, 25 reusable gowns, 10 overalls, and a few other items. He further claimed that immediately after UCH released a rebuttal against the government statement, three prominent politicians called the UCH CMD, asking the CMD to come and receive the N5m which the government announced that it had already given to UCH.
He stated further: "After the CMD got those calls, he was advised against going to the Ministry of Finance because, it was thought that the government was trying to be too clever. How do you announce to the whole world that you have given money to somebody, but days after, the person denied receiving any money, then you now ask the person (through other people) to come and collect the money?"
Mr Akinrinola also disclosed that after announcement was made by the Ministry of Finance to the effect that monies had been disbursed to the UCH, Mr Akinrinola said he immediately put a call through to the Governor's CPS, Taiwo Adisa, to express displeasure, and to tell him that the statement released by Oyo state Commissioner of Finance was incorrect and unfair.
According to Mr Toye Akinrinola, the CPS's response was that the commissioner couldn't have made the release if he didn't have his facts right.
It was at this point that the programme anchor, Isaac Brown, announced that Governor Makinde's Chief Press Secretary, Taiwo Adisa, was live on phone to explain government's side of the argument. Asked to respond, Taiwo Adisa confirmed receiving a call from Akinrinola, and that all what the UCH spokesman said were all correct.
He continued by saying, although UCH was yet to receive the equipments as promised, the money had already been disbursed to government suppliers, according to records at the Oyo state Ministry of Finance. He explained that maybe the government suppliers were having logistical challenges in delivering the items.
Governor Makinde, according to him, wouldn't release monies directly to UCH because, the government doesn't want to take chances with regards to having equipments stuck in transit, as a result of lockdowns.
He said Governor Makinde had previously given money to the institution, but that management of UCH complained that it couldn't access the funds, due to complications occasioned by Treasury Single Account, TSA. He advised UCH to be patient with Oyo state government's supplier.
It was apparent that the UCH spokesman was not satisfied with Adisa's explanations. Asked to respond, Akinrinola again berated the government for not stating clearly in its press release that it ordered for equipment for UCH, instead of claiming that it released monies to the institution. The interview hereafter, took a dramatic turn when Mr Akinrinola said:
"They claimed to have already supplied the Virology Department of the UCH with equipments worth N25m. However the worth of everything we've gotten from them so far, according to their own claim, is N2m. I can confirm to you that the items supplied to us, which I listed earlier, is much less than N2m.
Besides, I wonder where they buy their own equipments, but I believe that we all buy from the same market. And based on that, I can tell you authoritatively that those items cost much less than the N2m that they claim.
The government has work to do, because, when you give contracts out for construction or supplies, you have to do oversight in order to make sure that the contractor delivers to specifications, and not rip you off."
At this point, Taiwo Adisa apparently got offended and thrown courtesy to the wind. Because rather than address the substance of Akinrinola's accusations, his next response bordered more on emotions.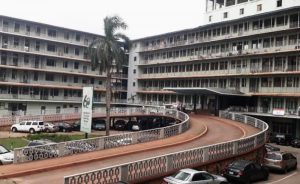 He said: "Let UCH mind their own business. Oyo state government is not on the same level, we're not at par with the UCH, and so, we do not have to join issues or exchange words with them.
"The Oyo state government is the owner of every square inch of land in this entire state. UCH is just one of many other health facilities and institutions within the state. Let them mind their business of treating patients under the mandate of the federal government.
"They should better leave governance to those elected to do so," he concluded (end of the interview).