By AbuSatar Hamed
ABEOKUTA – The honourable member representing Yewa South local government at the Ogun State House of Assembly, Hon. Lateefat Ajayi has revealed her plan to institute legal action against the campaign of calumny and blackmail against her person in a publication, authored and made viral in the social media by two bloggers – Ogun Chronicle and Ogun Post.
In a chat with journalists over the weekend, Hon. Ajayi said that she was ready to put a stop to the continued blackmail by taking legal action against the brains behind the rumors that she collected N250,000 as bribe from Senator Solomon Adeola Yayi, as an inducement to vote for the selection of one Lateef Salami, a chairmanship aspirant for Yewa South local government election.
Hon. Ajayi also frown on the allegation that Chief M. Ajibola insulted her or made any uncomplimentary statement against her, saying "there was no any meeting where Baba Ajibola and I had such discussion.
"There was no disagreement between Baba Ajibola and I, or any APC leader within and outside Yewa South local government, rather we all having cordial relationship that's waxing stronger by the day.
"Honestly, I'm enjoying the best of time with APC leaders and the people of Yewa local government."
It would be recalled that a publication purported to have authored and made viral in the social media by Ogun Chronicle and Ogun Post of which both bloggers reads in part, "Ogun APC LG Primaries: APC leaders labeled as gluttons, disgraceful leaders, trying to manipulate APC constitution, as Ogunwest Leaders received terrible amount of money as bribes to undermine Governor directives
Hon. Ajayi noted that it was annoying and aching on how her name was linked to such embarrassing allegations, saying, she has reported the issue to the security agencies and that they have set up a dragnet to arrest the blackmailers.
"This time around, I'm not leaving any stone unturned to unravel the brains behind this blackmail and I'm sure the long arm of the law is getting closer to arresting and prosecuting these unscrupulous elements.
Answering a question, Hon. Ajayi posited that "it is now high time someone stopped this embarrassing fake news and blackmail in our society."
"Since I've started politics, those who know me would bear me witness that I don't because of money involved in politics.
"To God be the glory, I'm a successful businesswoman before I plunged into politics, and my stint in politics is to influence development in my constituency."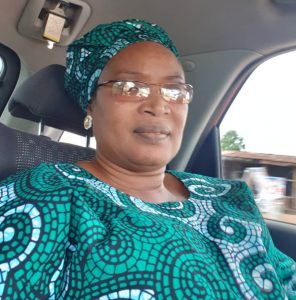 Among her constituents, Hon. Lateefat Ajayi remains a renowned politician who has paid her dues in the political circle, not only in Ogun West, but Nigeria as a whole.
She has been in the frontline of those politicians that have been silently empowering the less privileged in the society.
In spite of unavailability of funds to prosecute constituency projects, the APC lawmaker has been trying her best to put smiles on the faces of her constituents.
This gesture, no doubt endeared her to many people within and outside her constituency.