By Seyifunmi Odunuga.
IBADAN – As part of efforts to reduce fire incidences and create jobs for unemployed youths in Nigeria, the Fire Academy of Nigeria (FAN) has promised to train 10,000 fire professionals in three years.
The Director-General, Fire Academy of Nigeria (FAN) , Dr. Charles Afolabi told newsmen on Sunday, October 25, 2020, in Ibadan.
According to him, the Academy which was established in 2015 is in partnership with some foreign partners, saying that the target of the Academy was to produce 10,000 fire professionals across the country for employment.
He said further that the Academy have signed Memorandum of Understanding (MoU) with a partner in Canada and Oyo State Government to train youths to be Fire Wardens as well as Marshalls.
"Whether we go to the mountain or river to pray, there is going to be fire. Any reasonable governor or government will marry us.
"So definitely, we will have 10,000 graduates to be employed. And before they finish we will be going to industries, government that this is what we have to create employment for them.
"The good of it all is that we have an international accreditation. Anybody passing through this Fire Academy in Nigeria will be able to work anywhere in the world," he said.
Afolabi further stated that the Academy would sought employment for its graduates, saying that was the reason why they have agreed with government to have their students undergo internship in government agencies.
He also said that that graduates from the academy would do lots of surveillance and sensitisation, adding they have established a Community Relations Department to go into the market place as well as the community.
"Only in Nigeria, I have seen that the fire industry is a vocation. It is suppose to be a profession like Accountancy, Marketing and Public Relations. The fire industry in this country had been overlooked.
"People felt drilling, climbing and quenching fire is the only thing fire stand for. We have Fire Engineering, Fire Research, First Aid and Fire Safety, Fire Protection. They are all encompassing," he said.
Afolabi said that the fire Academy was all out to train the youths, adding graduates from the Academy would work in collaboration with government fire agencies.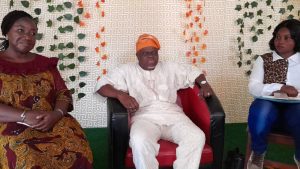 "They will work to identify fire problems and before it gets out of hand, they know who to contact. We are trying to penetrate the Federal Fire Service, they are equally good. They have international standard.
"But other states fire service are yet to come up to international standard. They are below standard. No equipments, their staff are not well paid, infrastructure nil and they are too static in nature," he said.
He continued, that the Academy would extend its partnership to other states across the country towards prevention and eradication of fire incidences. Afolabi said.