By Raymond Osho
ABEOKUTA – The crisis rocking the Federated Chapel of the Nigeria Union of Journalists (NUJ) may soon be a history as the leadership of the chapel resolved to hold election on Monday, July 27, 2020.
The chapel, which is a body of community newspaper proprietors and journalists has been experiencing battle as a result of loggerhead among executives over who is the authentic head.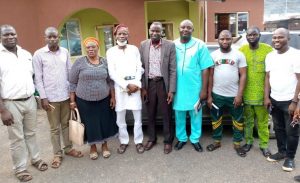 But the Secretary, Caretaker Electoral Committee of the chapel, Sodiq Ojuroungbe in a release issued in Abeokuta on Thursday, July 27, 2020, said the election would take place at the NUJ Secretariat, Iwe Irohin Press Centre, Oke-Ilewo, Abeokuta, between 9am and 2pm.
Ojuroungbe stressed that the voters would be the 22 list of accredited members of the chapel screened by the National Screening Committee led by Kayode Akinsola of the Nigeria Union of Journalists.
He added, "We hereby implore all our membes to be present at the election ground so that we use our franchise to usher new executive that will take over the affair of the chapel for the next few years."