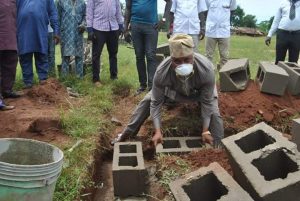 EWEKORO LG: The Chairman of Ewekoro Local Government Transition Committee, Hon. Emmanuel Olumuyiwa Babayemi, has performed the official laying foundation of a block of three classrooms, toilet facilities and borehole at the African Church Nursery & Primary School, Ajipatutu, with an advice to all the parents living in the LG area, to always devout much more time and resources towards both the moral and educational upbringing of their children/wards.
According to a press release e-signed by and made available to StarTrend Int'l magazine & www.startrendinternational.com by Sallaudeen Busirat. M., Information officer, Ewekoro Local Govt., Hon. Babayemi, re-emphasized the importance of education, as a necessary investment tool, not only for the future wellbeing of the children, but the growth, development and progress of the Local, State, & Federal governments, as well as the society, as a whole.
The Local government boss used the occasion to enumerate numerous ongoing projects, being embarked upon by his administration, to include borehole at Arigbajo, electricity at Itori and Olorunsogo, among others.
He stated further that the development was the beginning of a new era in the LG administration, as all members of the Transition Committee and his humble self were poised to provide basic needs to the people, urging well meaning individuals, both within and outside the LG area, to always support his government for even distribution of dividends of democracy.
Speaking at the event, the Honourable Commissioner for Community Development and Cooperatives, Ganiyu Hamzat, described the projects as part of the dividends of democracy to the people at the grassroots, thereby praised both the State & Local governments for making the hitherto shambling nature of the Local government governance/administration, in the past, now more energised & functional towards the rural areas developmental goals.
Other dignitaries at the occasion were: Hon. Israel Jolaosho, former member of Ogun State House of Assemby, Hon Sunday Akinyemi, former Local Government Chairman, Hon Abiodun Adeleye, APC Ewekoro Local Government party Chairman, Hon Omilani, Alhaji Naheem Adebowale, Vice Chairman Ewekoro Local Government, Secretary to the Local Government and members of the Transition Commitee.
Also at the event were the Head of Local Government Administration, Mr B.A. Owolabi, Directors and AZ Head of Departments, Ewekoro Local Government, Ogun State.