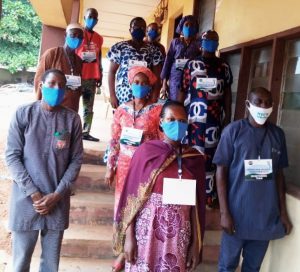 SAGAMU LG: In line with the directives of the National leadership of Organised Labour in the country, for the formation of Nigeria Labour-Civil Society Situation Room in all the states, in the federation, the Sagamu Local Government Chapter, has been inaugurated.
According to a press release e-signed by and made available to StarTrend Int'l magazine & www.startrendinternational.com by Ayobami Demehin, Information officer, Sagamu LG., at the inaugural meeting, held at Sagamu LG, objectives of the Committee were enumerated as follows: to sensitize workers and citizens on the reality, prevalence, prevention and containment measures against Covid-19; to embark on advocacy and social dialogue with government and private sector employees.
Others are to promote public health and employment income protection for workers; to maintain surveillance on the impact of the Covid-19 pandemic on the work force and adopt appropriate position; to support workers who are in the front-line of the Covid-19, with informational and occupational safety kits, and to engage the govt on how best to gradually and systematically turn up to a friendly economic environment, for viable business, better production and entrepreneurship.
The Chairman, Sagamu local government transition committee, Hon. Gbenga Banjo, later met with members of the committee on Covid-19 Labour, civil society situation room, in his office, promised to give his full support to the committee, in terms of Logistics and financial support.