BY DOLAPO JINAD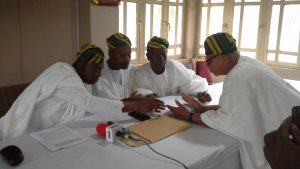 Egba descendants under the age of Egba Nation has appeal to the Ogun State Governor Prince Dapo Abiodun not to consider any attempt to tinker with the law to deprive Ogun Central Senatorial District of its only State – sponsored full fledged University.
Pointed that the act is nothing but playing an hidden agenda and playing on sensibilities of Egbas which may create bad blood in the State.
Leading the voice of its people at a Press conference in Abeokuta, by the President of Abeokuta Club, Engr. Tokunbo Odebunmi mni, held at the Club Conference Room, Presidential Boulevard, Ibara , Abeokuta. Said the press conference addressing on behalf of the four Paramount Rulers in Egbaland, Egba Traditional Council, Egba general title Chiefs, All members of Abeokuta Club,  Egba sons and daughters both at home and in Diaspora.
Engr. Odebunmi said ,Egba indigenes of Ogun Central Senatorial District,  have in the recent time observed some unwelcome development arising from body language of the present government in State led by Prince Dapo Abiodun widely acknowledged that Egbas are peace loving and accommodating people hence it's expected of governor to continued extension of hands of fellowship to all and sundry and other co- travelers in Ogun State project being the state Capital.
He maintained that the recent development being initiated by Prince Dapo Abiodun led administration against the interest of Egbas by an attempted to relocate MAUTECH is not acceptable to the people of Egba Nation.
His words "The Egbas would not like to think of a situation whereby the Governor being  referee now choses to shift the Goal Post in the course of a Football match.
"This is in relation to the Governor setting up a panel on the operational modalities of Moshood Abiola University of Science and Technology (MAUTECH) without waiting for the recommendation of the panel which had received memoranda from all stakeholders, Mr. Governor hurriedly sent in a request dated 18th July, 2019 to amend the MAUTECH law."
Odebunmi noted that the State owned seventeen tertiary institutions lopsided in favour of Ogun East Senatorial district and presently two are now operating as a full fledged University in Ogun East (Olabisi Onabanjo University, Ago-Iwoye and Tai Solarin University of Education, Ijagun).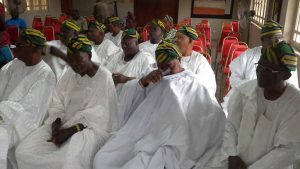 While responding to some of the questions from the news men during the interaction , affirmed that Egba Nation is ready to give all necessary support and full responsibility towards the sustainability of the both University and polyphonic in the same compound.
Engr. Odebunmi said , viability and sustainability of a tertiary Institution in y his context implies the capacity of such an institution to enroll adequately qualified students for their approved academic programmes ; access infrastructural facilities and acquired for all the approved academic and professional programmes.
He also pointed out 13 available source of fund to the institutions which include and not limited to the following: Take-off Grant,
2, Subvention from the Proprietor (s)
3, Tuition fees and other sundry payments.
4, Tertiary Education Trust Fund (TETFUND)
5, Institutional Donors/Co-operation
6, Endowment(s)
7, Private and Corporate Collaboration
8, Individual Benefactors
9, Public /Private Partnership e.g Build, Operate and Transfer (BOT)
10, Research Grants
11, Sponsorship and scholarships
12, international Donor Agencies; etc
13, Patronage of specialized Courses.
According to him said , all the listed sources of funding is available for MAUSTECH to tap into and the University should be sustainable after five years as a specialized University.