ABEOKUTA: In a bid to launch a Statewide New Trend and Harmonization of Pest Vector Control Programme, the Chairman, Transition Committee, Abeokuta South Local Government, Hon. Ayodeji Michael Shomide, has played host to some section of the stakeholders, including the leadership of Ogun State Chapter of ALGON, Community Leaders, the Consultant and the Company.
According to a press release e-signed and made available to StarTrend Int'l magazine & www.startrendinternational.com by Sobowale Adeolu, Information Officer, Abeokuta South LG., Ake, in his welcome address, Hon. Shomide expressed his unreserved appreciation to the community leaders, for their prompt responce, always, to government calls, with a promise to give the programme all the necessary supports required.
In his own speech, the Ogun State ALGON Chairman, Hon. Semiu Bola Lawal, who happened to be the Odeda LG Chairman, thanked all the community leaders present for their cooperation over the years, adding that "as we continue to fight coronavirus disease, it's important to fumigate every house in the State, in order to keep our environment free of Coronavirus, which is the reason why the State Government has given the job to SEKBOL COMPANY, being an expert in the field".
He, therefore, appealed to the community leaders to collaborate with the company, in order to make it a hitch-free exercise.
Addressing the gathering, Mr. Nurudeen Oyeneye, the Consultant to the Company, re-emphasized the need, health wise, to fumigate every house, in Ogun State, in order to curb the spread of coronavirus.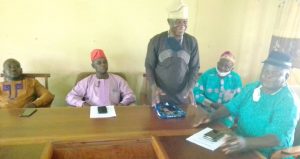 While responding, Alhaji Fatai Adedamola, the Zonal Chairman, Community Development Committee, (CDC), assured the LG of their unflinching support, as they had already sensitized the people on the proposed programme, and therefore thanked the LG boss, for giving them the opportunity to serve.
Dignitaries at the event were; the Transition Committee Chairman, Ifo Local Government, Hon.Salami Fatai Folawewo, Transition Committee Chairman Ewekoro Local Government, Hon.Emmanuel Olumuyiwa Babayemi, Hon.Olanrewaju Samod, Vice Chairman, Abeokuta South Local Government and Engr.Ayoade Ayo, Ag. HOLGA, Abeokuta South Local Government.