By AbuSatar Hamed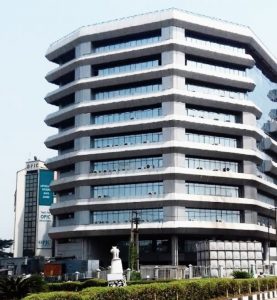 ABEOKUTA: Ogun State Goverrnor, Prince Dapo Abiodun, says the era of haphazard promotions and appointments in the civil service is gone, as his administration would ensure that merit and due process are followed.
According to a press release e-signed and made availabile to StarTrend Int'l magazine & www.startrendinternational.com by S.F. Ojo, SA Media to the Governor, Abiodun stated this at the swearing-in of the first Statistician-General in the State, Mr. Alao David Olawale, at his office at Oke-Mosan in Abeokuta.
A statement by his Chief Press Secretary, Kunle Somorin, says the Governor has also approved the appointment of Arc. Abiodun Fari-Arole as the substantive Managing Director/Chief Executive Officer of the State Property and Investment Corporation (OPIC).
Fari-Arole comes into the job with 37 years experience as a professional architect. He holds a Second Class Upper degree in Architecture and a Masters with Distinction in the same field from the Obafemi Awolowo University, Ile Ife. He is a registered architect and member of both the Nigerian Institute of Architects (NIA) and the Commonwealth Association of Architects (CAA).
Until his appointment on Friday, Arc. Abiodun Fari-Arole, was Managing Partner at Grids Associates Limited in Lagos.
While swearing the new Statistician-General into office on Wednesday, Governor Abiodun pointed out that the appointee had over the years demonstrated capacity in the area of Statistics and is eminently qualified for the position.
"We will continue to appreciate, recognize and reward merit and adhere strictly to our principles of fairness and equity. We will ensure that promotions and appointments are merit-based and the processes not haphazardly done.
"You deserve this appointment. Until today, we have not met eye-to-eye. I want to put on record that you have not been given this appointment because you came to see me at night, in the morning or in my office. I have appointed you because of your antecedents and professionalism", Prince Abiodun explained.
While congratulating Mr. Alao as the first Statistician-General of the State, the Governor urged him to carry out his duties without fear or favour and be fair and firm to all in accordance with the administration's good governance principles.
Mr. Alao David Olawale, a native of Abeokuta, was born on February 27, 1960 and bagged both Bachelor and Master Degrees in Statistics from the University of Ibadan.
A member of many professionals bodies, including the NIgeria Statistics Association, Mr. Alao joined the State Civil Service in 1989 as a Statistician Grade II, Grade Level 8 and rose to Level 17 in 2016 before his new appointment on February 21, 2020