By Abiola Rufai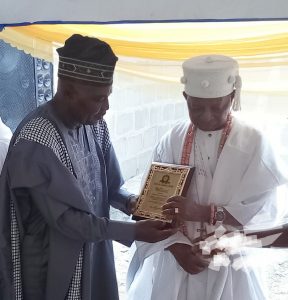 ILARO-YEWA: The Olubara of Ibaraland, Oba Jacob Omolade has said that Yewa would be great immediately the citizens of the region realize that they have to be united towards the development of the area.
Oba Omolade said that the major problem confronting the region is disunity, saying that the way forward was for the people of Yewaland to talk to themselves through holding occasional get together and then discuss matters affecting the region.
His words, "I believe many of us immediately we begin to realize that we have to develop Yewa, Yewa will be developed. The problem we have is that we are are never united, we don't like ourselves, we don't recognized our elders and community leaders.
"The way forward is to talk with ourselves, possibly holding occasional get together, seminars towards discussing matters affecting Yewaland.
"Our people are not serious. How many of the politicians do you see here? They will say they are doing one thing or the other. But they prefer to attend other peoples event with pomp, leaving their own unattended to.
"It's unfortunate that our major problem are politicians from Yewaland, most especially the women who come from their respective husbands homes to struggle for positions here. But they don't make any impact. They are indeed our enemies", Oba Omolade said.