ILARO-YEWA – The President of Yewa (Egbado) College, Ilaro Old Students Association (YECOSA), Prince Babatunde Olugbewesa, who is also Special Assistant to Ogun State Governor on Physical Planning, has on behalf of the college old students expressed his joy and happiness to identify and felicitate with his Alma Mater – Yewa (Egbado) College, Ilaro on the occasion of the school's 72nd Founder's Day today, (Monday, January 30, 2023).
Egbado College Ilaro now Yewa College Ilaro was founded by people across Yewaland on January 30, 1951.
According to a release e-signed and made available to StarTrend Int'l magazine and online – www.startrendinternational.com by Lukman Musa Nationalty Secretary, YECOSA, the group's President said YECOSA has to cancel a press conference to kick start activities for the celebration slated for today (Monday, January 30, 2023), at the College premises, due to the current fuel scarcity in the country and the inability of Nigerians to exchange their old naira notes to the new ones as ordered by the CBN.
He said "at this point in our nation's history, where the self-respect and self-esteem of the common Nigeria has come under severe attack from a myriad of socio-economic,
socio-cultural and socio-political uncertainties, it becomes
imperative that those that had gotten the opportunity to pass through the four wall of the Yewa (Egbado) College, Ilaro should come together, apparently to celebrate our Alma Mater's 72nd anniversary with Pomp."
Prince Olugbewesa believes that there is no doubt that the esteemed members of YECOSA have contributed immensely to the development of the school in the past three years, stressing, "but there are still many grounds to cover.
"While we sincerely commended members that have contributed immensely to development of the College through YECOSA, but we want to use this medium to implore other members who are yet to identify with and support their Alma Mater to please show interest in doing so", he pleaded.
Prince Olugbewesa said he is aware of the prevailing economic hardship across the country, saying, "I hope we can at least help offer support to our Alma Mater through YECOSA.
"This is because the number of members who are financially commited to the
association falls awfully short compared to the number that registered as members of YECOSA.
"With the influence and input of those members that are yet to show interest in the development plan of YECOSA for the college, we are sure we shall achieve our ultimate plan for the school."
The YECOSA President applauded the efforts of some individuals and organisations in the development of infrastructures at Yewa (Egbado) College, Ilaro.
Notably among them is Senator Tolu Odebiyi, the current Senator representing Ogun West at the National Assembly.
He described Senator Tolu Odebiyi as a partner in progress through his constituency projects.
Prince Olugbewesa said the distinguished Senator Odebiyi has facilitated the construction of an ultra modern Sports Arena and ICT Centre; the renovation of classrooms and hostels for boys and girls; the provision of high capacity power generators among others.
Senator Tolu Odebiyi is first son of the College's first Principal in 1951.
Other donors and sponsors, Prince Olugbewesa noted will be formally announced and appreciated at a special event on Sunday, February 12, 2023 to climax the school 72nd Founder's Day celebration.
The celebration will also be preceeded by a joint faith Thanksgiving service at the College's Hall.
Other activities lined up are Lecture/Seminar for the students, Novelty Football Match between old students and Hospitality Night on Friday, February 10, 2023.
Also, Inter-House Sports and a Grand Get-together is slated for Saturday, February 11, 2023.
The Yewa (Egbado) College Old Students Association (YECOSA) is the umbrella body that brings together every alumnus and alumna of the college to ensure their welfare, individual and collectively, as well as to support the growth of the College.
"Once again, we congratulate members of YECOSA, students and teachers of Yewa College, Ilaro on this great occasion of the 72nd Founder's Day of the school, while we wish all us a successful celebration", Prince Olugbewesa posited.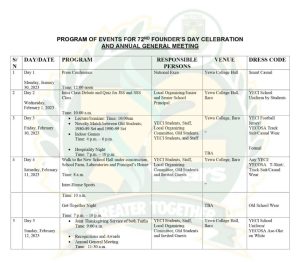 *Pictured are some projects donated to the school by Senator Tolu Odebiyi, Members of YECOSA and others.