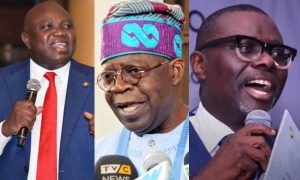 When Senator Tokunbo Afikuyomi tweeted that "from now till the foreseeable future, l am an Independent Services Provider. God help Nigeria 2019 elections on my mind", many people did not understand what he meant.
But facts emerging show that Afikuyomi has broken ranks with Asiwaju Bola Tinubu, APC National Leader.
It was scooped that Afikuyomi may have been unhappy with the way the party treated Akinwunmi Ambode, Lagos state governor and denied him second term ticket.
Political observers say Afikuyomi's declaration of self independence will have serious implications as it is unlikely that he will work for APC in the coming gubernatorial election.
Afikuyomi had been one of Tinubu's trusted, tested and dependable right hand men .Their relationship dates back to the Military era when they were united by the struggle for democracy in Nigeria.