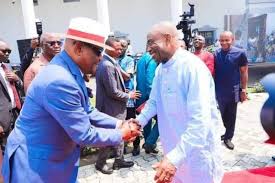 …Gifts Odili Multi-Million Naira House
PORT-HARCOURT – Rivers State Governor Nyesom Wike, has aledged some elders of the state Peoples Democratic Party (PDP) of being the brains behind why Atiku Abubakar did not pick him as his running mate.
Wike claimed that the elders ganged up against him because they didn't scale through the primary to be the governorship candidate.
The governor revealed this during the 74th birthday reception organised to honour a former governor of Rivers, Dr. Peter Odili, at his residence in Old Government Residential Area, Port Harcourt, on Monday, August 15, 2022.
His words, "On my last birthday by 12 midnight, one of our elders called me saying that they want to see me. They came to me and said they came to wish me a happy birthday.
"Then, they presented me with a letter that I should run for President. All of them, including Dr. Abiye, signed the document.
"I said 'okay, you people too should go and give me someone who will be governor after me.' They all sat there, looking left and right.
"I asked them, 'those of you who are interested to be governor should raise your hand' Everybody raised their hand. One person didn't raise his hand, Senator Bari Mpigi.
"I asked why he was not interested, he replied, 'sir, let me hold what God has given me. I don't want to lose the two."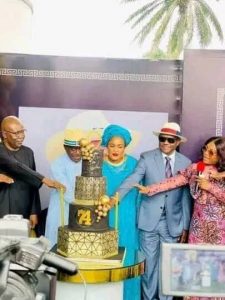 Wike added, "Some people don't know the history. They go and tell all kinds of stories. But the truth is this: all of them (elders) signed the document prepared by O.C.J. Okocha that whoever I will bring, they'll abide by it.
In another development, the Rivers State helmsman has gifted a multi-million naira house to ex-governor Peter Odili for his 74th birthday.
Recall, Odili governed the oil-rich state between 1999 and 2007 when Wike served as Chairman, Obi Akpor Local Government Area.
Celebrating Odili at a ceremony organized by the Rivers State Government to commemorate the 74th birthday anniversary in Port Harcourt on Monday, August 15, 2022, Wike eulogised the ex-governor for the role he played in his emergence as governor.