By Raymond Osho
NIGERIA: The new year began with thousand of Nigerians in merry moods which was precessed by shouts of joy – "Happy New Year" in various places, especially in churches and social centres.
For instance, in Lagos, all ways led to Ikorodu where the 2019/2020 Greater Lagos Extravaganza held. The week long events which terminated in the new year with attendees shouting "Happy New Year!! will linger on in the minds of Lagosians.
Also in Ogun State, citizens joined their amiable Governor, Prince Dapo Abiodun at the St. Peter's Church where he and other government officials had the cross over night.
The streets of Ibadan were agog with carnival going on at different corners. One could easily spot youths, both men and women who were extremely lost amidst the rocking music of Olamide, Zlantan and Naira Marley, and on the dot of 12:00 am, they all shouted "Happy New Year".
December 31 witnessed people with utmost eagerness to cross over into the new year as many could not wait to bid the odds of the year 2019 farewell. Some could not wait because loads of promises by friends, families, bosses among others were waiting for 2020 to be fulfilled.
Traditionally, the New Year is a time to merry – hang out with friends and families, visit fun centres, take children to recreation centres, attend music shows, give and shear gifts, etc.
But recently people are coming up with contrary opinions that the New Year is not just a time to celebrate, but also to set a new standard and make necessary amendment in different aspect of individuals life.
Some people wouldn't see any different between the new and the old years. People in this category are of the opinion that what makes the slight different is the calendar. To them, the journey is the same, but only the celebration makes it look different.
Very many people hold the belief that the New Year will make no different if reasonable and achievable resolution are not carefully and decisively set. People of this belief usually set their resolutions before they are ushered into the New Year. In fact, if at the twilight of the year, they haven't fulfilled their resolution, they regard the year as "wasteful".
There are people who's resolution would be to decimate certain behavior or ill attitudes militating against their progress or life advancement in order to better their lives.
On the negative, while some wants to quit smoking, hanger, low self esteem, sexual immorality, stealing, some wants to quit drinking, fraudulent attitude which they are not comfortable with.
On the positive, some want to build houses, buy cars and if already have, buy a new one, get a wife or husband, get a new apartment, acquire a landed property, the rest are too many to mention. This could however be considered as goal setting.
Why is it that I set resolution and found it difficult to fulfill is one of the questions that burden people's minds.
Truly, people don't always meet up, maybe because they are not disciplined, determined, dedicated or should I say principled enough.
IS RESOLUTION REALLY NECESSARY?
Many Nigerians have different answers to this.
For Temitope in Abeokuta, It is good to set resolution, it will help you to be focus and diligent in all you do.
Adewale in Lagos in his view, resolution is good but cannot be met without indomitable determination to ensure all are kept. "It's not easy to stick to what you have resolved to do or not to do, but when you are determined, there's nothing to fear of."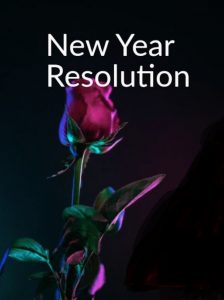 In Ibadan, Ifemipo stressed, "Resolution is nothing, gone are the days when you think setting resolution would make you a new person, but in recent times it has been discovered that many who set resolution only create problems for themselves as it becomes a pressure on them, I mean pressure that they must meet up. It is only God who can do anything you want and not through resolution.
Olusola said, "Well, to me, I don't believe in resolution. You may set resolutions and not be discipline enough to meet up. Let's just ask for the grace of God in the New Year."