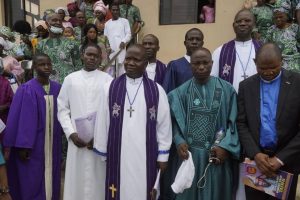 By Seyifunmi Odunuga
IBADAN – A call has gone to the family of late warrant officer 2 Gabriel Laluyi Esan Taiwo to emulate the legacy of their late husband and father and embrace more peace and unity among themselves.
The Pastor in charge of Methodist Church of Nigeria, Oke Ado, Ibadan stated this at the farewell and commendation service for the late Warrant Officer 2 on Friday, May 7, 2021.
The Man of God, who described the late gallant Army Officer as a Godfearing Christian who in spite his military callings devoted part of his life to Christiandom, prayed for peaceful repose of the soul of the deceased.
After the church service, an army officer paid last respect to the late Warrant Officer 2 Esan Taiwo while train of the celebration of life moved from Ibadan to Ilare, in Osun State for the wake keep service and final burial.
On getting to Ilare, the corpse was received and celebrated by the people of Ilare community comprising of the village women, hunters, youths who trooped out in their hundreds to paid their last respect to late Taiwo Esan.
Also at the wake keep service which was graced by the Ilare community, from within and outside the country, the cleric urged people at the occasion to prepare for life after death.
The final home journey for late Warrant Officer 2 Gabriel Laluyi Esan Taiwo however took place on Saturday, May 8, 2021 with Thanksgiving Service at the Methodist Church Nigeria, Ilare, Osun state.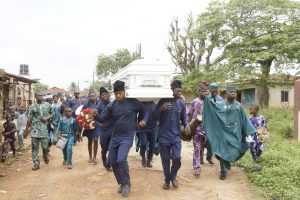 At the service, the priest in charge commended the fast response of the deceased children to the request of the Church within a short period of notice, saying, "it shows that the children are building on their father's legacy."
After the sermon, two officers of the Nigerian Army paid their last respect to late Taiwo Esan's remains while the Paul bearer, O.Y Best Band and Funeral Services moved the corpse from the Church to his residence, Akinluade's Compound, Ilare where the dust to dust rite was performed by wives, children, clergy, relatives and friends of the deceased.
Entertainment of guests followed immediately at the Catholic Primary School Field, Ilare, Osun state.
The occasion was graced by cream of the society from all walks of life. De Amazing Music Rockery led by Oluwakayode Micheal Ojeme (Amazing Kaykeys) thrilled children of the deceased and their guests to superlative juju cum gospel rendition.
The event was packaged by Apreel 1 Events Management and Events TV.
Late Warrant Officer 2 Gabriel Laluyi Esan Taiwo, a rare gem, who died on February 8, 2021 at the age of 84 years is survived by wives, children and relatives who buried their father in a bliss of glory.