Nigeria's Vice President Yemi Osinbajo and his American counterpart Mike Pence met Wednesday June 26, 2019 in Washington D.C, on the eve of Osinbajo's departure to Nigeria.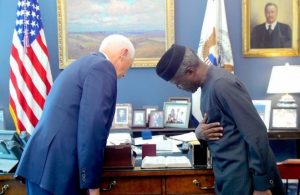 Their discussion centered on deepening relationships between Nigeria and the US.
After the meeting, US VP Pence decided to walk his Nigerian guest to his car, describing Osinbajo as "a friend."

Pictured are some shots taken during the visit. Savour it!