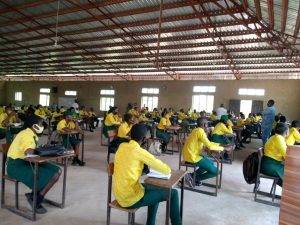 By Raymond Osho
ABEOKUTA – Secondary school teachers in Ogun State have appealed to the West Africa Examination Council (WAEC) to extend the two weeks preparation period for the 2020 West Africa Senior School Certificate Examination (WASSCE).
The teachers, especially in Private schools made the appeal when newsmen visited schools in the state on Wednesday, August 5, 2020, for observation.
The state governor, Prince Dapo Abiodun, had on Wednesday, July 29, 2020 directed that the schools be opened for the students in the SS3 classes to enable them take the West African Senior School Certificate Examination scheduled to commence on August 17, 2020.
Though, the teachers expressed pleasure over the resumption, they stressed the need for WAEC to extend the two weeks period to prepare the pupils for the examination, complaining that the two weeks preparation allotted would not be enough to prepare the pupils as there are lot of topics to cover in each subject.
The propritor of Comprehensive Secondary School in Lafenwa, Abeokuta, Dr Wale Bello who spoke to StarTrend International complained that most of the pupils have forgotten all they had learnt before the lockdown, thus, making the task difficult for teachers.
He said the weeks of preparation will not only have negative effect on the students, but also the country, adding that the pupils performances in the coming examination may be below expectation.
Bello stressed further that teachers need at least four days to redirect the attention of the pupils from the streets back to the class as many of them were busy hawking during the lockdown.
One of the pupils, Oguntoyinbo Ayomide who says she was happy about the resumption also frowns at the two weeks preparation period.
During the tour, we observed that the schools adhered to government's Covid-19 guidelines, making provision for isolation centres, hand sanitizers, buckets of water and soap for hand washing while the pupils were fully on facemasks.
The pupils also seated, maintaining the social distancing guideline.
Some of the schools visited include Mercy Land School in Ibara, Abeokuta Grammar School, Idi-Aba, Landmark School, Brewery, Greenland College, Onikolobo amongst others.