The Athletics Federation of Nigeria (AFN), the umbrella body for athletics in Nigeria, has revealed that the Minister for Youth and Sports, Sunday Dare, allegedly halted the distribution of sport kits to Nigerian Olympians due to an alleged personal feud between the sports minister and the Chairman of AFN board.
In 2019, the AFN, led by Ibrahim Gusau, struck a four-year sponsorship and license arrangement with PUMA, a German sportswear manufacturing firm, in which the company agreed to offer free apparel to all age divisions of the Nigerian athletics team for four years.
In addition, medalists in the Olympics were to be paid for wearing PUMA apparel during the competition.
It was gathered that the execution of the contract was allegedly brought to a halt by Mr Dare because of an alleged leadership tussle between the Gusau-led AFN board and a factional board Mr Dare sought to imposed.
The AFN in a series of tweets on Wednesday, August 4, 2021, allegedly said Mr. Dare had vowed that Nigerian athletes will not wear the PUMA kits over the alleged feud he had with Mr. Gusau, and frustrated several efforts to get the PUMA kits across to the athletes in Tokyo.
"Several efforts were made to give the athletes the PUMA kits including shipping bags of kits with 40 items each to Tokyo through the Nigerian Embassy in Japan, but Mr. Dare wrote to the Ambassador stopping him from sending the kits to the athletes," AFN tweeted.
Mr. Dare's basis for allegedly displaying contempt towards the Gusau-led AFN board was vacated, according to the AFN, by an investigation conducted by the State Security Service, (SSS), which cleared Mr. Gusau's AFN board and its marketing firm, Dynamic Sporting Solutions Nigeria Limited, of allegations of receiving money meant for the AFN.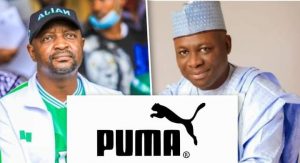 "It will be recalled that on September 3, 2020 the Department of State Services DSS cleared the Ibrahim Gusau led board and its marketing firm, Dynamic Sporting Solutions Nigeria Limited of receiving money meant for the AFN," AFN concluded in the series of tweets.
Because of insufficient sporting kits and inefficiency in guaranteeing compliance with the Olympics competition standards, the consequences of Mr. Dare's alleged decision have been devastating for Nigerian athletes competing in the Tokyo 2020 Olympics with several of them speaking out against the ineptitude.