…Says, My Candidacy Is Unprecedented For Yewa-Awori
ILARO-YEWA – The Olu of Ilaro and Paramount Ruler of Yewaland, Oba (Dr) Kehinde Gbadewole Olugbenle MFR, has advised the Ogun State governorship candidate of the African Democratic Congress (ADC), Barr. Biyi Otegbeyes to seek God's favour in his political journey.
Oba Olugbenle made the submission on Thursday, October 6, 2022 when the ADC flag bearer, fondly called BOT by the people, paid a courtesy visit to the monarch at his Oba bi Olorun ko si Private Palace, GRA, Ilaro-Yewa, he used the occasion to caution politicians, especially those from Yewa extraction to avoid anything that could cause bloodshed.
Otegbeye was at the palace to seek blessings of the Royal Father ahead of the governorship campaign.
The Royal Father's words, "I am not a politician. To be successful in politics is of God. This journey is of God, there's nothing worldly kings can do to stop the work of God.
"I want Barrister Otegbeye to always use me as a reference to God in your prayer. Prayer works not power. Put your journey before God.
"I want to also plead with you and your supporters to avoid bloodshed because you want to become Governor.
"Avoid bloodshed. Don't kill because of Barrister Biyi Otegbeye. Avoid bloodshed no matter the provocation."
Oba Olugbenle also frowned on the use of social media by politicians to attack those that belong to another camp, saying, "I want to advise that you caution your social media boys from hurling abusive words to their supposed opponents".
The monarch noted that it is only God that can enthrone rulers pointing out that the manner of his own emergence as Oba remains a good pointer.
He cautioned politicians to eschew violence in the impending election.
Oba Olugbenle prayed for the victory of BOT in the coming election.
Earlier in his speech on the occasion, the governorship candidate of ADC in Ogun State, Barr. Biyi Otegbeye described his emergence as unprecedented, being the only governorship candidate from Ogun West Senatorial District of the State.
The legal practitioner cum politician who noted his emergence as the only Yewa/Awori candidate since the return of democracy in 1999, called on the electorate, particularly people of Yewa/Awori to support him.
Barr. Otegbeye who traced history of the agitation for a governor of Ogun West extraction, revealed that this marked the first time only one Gubernatorial candidate would emerge from the district.
According to him, "we always talk about unity. But in the last three elections, we always present multiple candidates.
He was of the opinion that Ogun West lost the opportunity to govern the state in 2011, 2015 and 2019 because of the multiple governorship candidates coming from the zone which truncated their chances of becoming the governor of the State.
BOT noted that, if the duo of Gboyega Nasir Isiaka and Hon. AbdulKabir Adekunle Akinlade had united in 2019, Ogun West would have produced the present governor in the state.
Hear him, "Kabiesi, if not for God I wouldn't have been here as a governorship candidate. Not until INEC pasted my name that I know I will be running. My candidacy is unprecedented in Ogun West for the first time.
"Ogun West also lost the opportunity in 2011 when two of our sons in Gboyega Isiaka and General Adetunji Olurin (of blessed memory) contested against Senator Ibikunle Amosun, and in 2015, Senator Akin Odunsi also squared it up against Gboyega Isiaka, which splits our votes.
"Also in 2019, our sons Hon. Abdulkabir Adekunle Akinlade and Prince Gboyega Isiaka, if the duo has united, Yewa/Awori would have become governor today.
"On many occasions, Kabiesi has preached unity and God has destined it that in 2023, Ogun West has one candidate."
BOT stated further, "Kabiesi, our time is now sir. This is not a campaign period, I have only come to visit my father. I have come to say I can't be successful in this journey without your blessings. Apart from sitting on a Royal throne of your forefathers, you're also a Man of God as a Pastor. I have come to seek your anointing and Royal blessings."
The Gubernatorial candidate declared that the anticipated governorship election presents the best opportunity for Ogun West to win the exalted seat in the state.
He noted that God has decreed that the time for the zone to produce the governor of the state is now.
"It's time to unite and speak with one voice and actualise our dream and vision.
"This is the best time and I am sure our ancestors will not forgive us if we miss this golden chance," BOT enthused.
The ADC candidate noted that his emergence was a divine arrangement, adding that he is ready to make Ogun State work again.
Thereafter, BOT and his supporters moved to the Recreation Club, Ilaro-Yewa, saying he can't come to the Kabiesi palace without greeting members of the foremost club in Ogun West.
He said that members of the club are his brothers whom he holds in high esteem and he would not not underrate their clouts in the society.
Otegbeye who told the gathering of his intention to contest as governor in Ogun state, under ADC noted that he would still come back to meet members of the club when the campaign starts proper.
In his welcome address, the President of Recreation Club, Ilaro-Yewa, Pastor Wale Olaode congratulated BOT for winning the Gubernatorial ticket of ADC.
Olaode disclosed that Barr. Otegbeye has been a regular supporter of the club, both morally and financially, adding that the club wishes him great success in his endeavors.
The ADC flagbearer and his large crowd thereafter danced round the town before he went to his country home in Ilaro-Yewa.
Some residents who spoke with StarTrend Int'l described Barr. Biyi Otegbeye as a God-fearing and kind man who had been using his God's -gift to put smiles on the faces of those who come his way.
They're of the opinion that Yewa/Awori people should use the opportunity of BOT governorship Candidacy of ADC to vote enmass for him in the February 2023 general elections.
An elderly woman who offered prayers said "With the mammoth crowd of our Ilaro people who trooped out in thousands to welcome our son – Biyi, omo Otegbeye, incoming Governor of Ogun State, come 2023 with joyous mood the gods of the land will not forsake him. He will excel at the polls.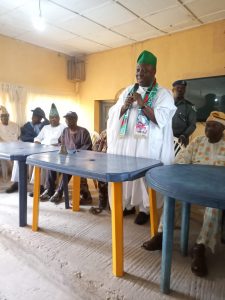 Another aged man has this to say, having our son who has been helping the homeless people as a governorship candidate in the coming election, God of host shall bless him and win the election for him."
A youth retorted, "I will like to say that Barr. Otegbeye is lenient and from youthful clime who we believe will take care of the Ogun people if elected as governor of the state.
"I want to use this medium to rally support for BOT. Let all the youths in Ogun West and the state as a whole cast their votes for BOT in the coming elections."
Others interviewed by the StarTrend crew thumbed up for Barr. Biyi Otegbeye as the next Ogun State governor, come 2023 while they pray for God's support on the Yewa/Awori project.