BY ABUSATAR HAMED
ILARO-YEWA – The death has been announced of Prince James Adedeji Olugbenle, fondly called "Double Crown" on Sunday, July 4, 2021, at his residence – Aniwura Court, 157, Leslie Road, Ilaro, Yewa South Local Government Area of Ogun State. Aged 84.
The Late Prince James Adedeji Olugbenle, FCA, FCIS; Chartered Accountant/Secretary was born on June 7, 1937 to the Royal family of Asade Agunloye of Ilaro, Ogun State.
He had his primary education at the Christ Church School, Ilaro between 1944 and 1951; Egbado (now Yewa) College, Ilaro (1952-57); Cooperative College, Ibadan (1958-59) and Leeds College of Commerce, Leeds, England (1960-63).
Thereafter, he had a stint as Inspector of Taxes, Federal Board of Inland Revenue (1964); Accountant/Principal Accountant, ECN, formerly NEPA now PHCN, (1964-70); Deputy General Manager, Nigerian Industrial Development Bank Ltd. (1970-82); Managing Director, I.G. Industrial Construction Nigeria Ltd., (1982-2002).
Prince James Adedeji Olugbenle was the Promoter, Chairman/CEO, Adetrades Nigeria Ltd., Ilaro, since 1982; Double Crown Foods Ltd., Ilaro, since 1986; Chairman, Ekuombe Microfinance Bank Ltd., currently, Board member Corporate Affairs Commission, CAC, Abuja; former Board member, ICON Merchant Banker Ltd; Ogun State Hotels Ltd (and later Gateway Hotel Ltd); Great Nigerian Insurance Ltd; Nigerian General Insurance Ltd; Stock Cement Company Ltd; Nguru Oil Mills Ltd, Nguru.
He was also former Board member ICON Stock Brokers Ltd; Nigeria Engineering Works Ltd, Port-Harcourt; former President, Yewa Chamber of Commerce, Industry, Mines & Agriculture (YECCIMA); Abeokuta Chambers of Commerce; Ogun Councils of Chamber of Commerce; former National Treasurer, National Association of Chamber of Commerce, Industry, Mines and Agriculture (NACCIMA); Current National Life Vice President NACCIMA; former Chairman, Finance and General Purposes Committee of NACCIMA; Institute of Chartered Accountants of Nigeria (FCA); Institute of Chartered Secretaries (FCIA) and member of Ogun State Elders' Consultative Forum by Ogun State Government.
Also, Prince Olugbenle was Adviser to the Rev. Pastor on Crucial Matters by the Pastor and Spiritual Head CCC Worldwide; member of the International Executive Committee of the CCC Worldwide (Board of Trustees); Current Chairman, Bible Society of Nigeria, Yewa/Awori Chapter, Ilaro Youth Organization; Chairman, Ogun West Chapter of Yoruba Council of Elders and Yewa Think Tank.
He was also Vice-Chairman, Yoruba Council of Elders, Ogun State Chapter, The Pastor in Council Celestial Church of Christ Worldwide; Yewa Union; member, Conference of Yewa Elders; Patron, Yewa Area of CCC (Ogun State 'B'); CAN, Ilaro Area; YEWA Skystars Club; Boys and Girls Brigade in Lagos and Ilaro; Anglican Youth Fellowship; Levellers Club of Nigeria; Young Christian Crusaders; Young Ladies Morning Stars and a host of others.
As a result of his outstanding performance in the society, Prince Adedeji Olugbenle was decorated with various types of Awards, such as Meritorious Diamond Award for National Development by Corporate Media Africa Communications in Recognition of his contributions to the Socio-Economic Development of Nigeria; Today's People International Pillar of National Development Gold Award by Intra-Continental Media Network in Recognition of Sterling Achievement in Chosen Career and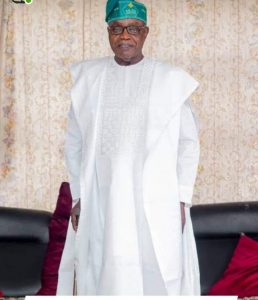 Immense Contribution to the Socio-Economic Development of Motherland; Oronna Day Community Award; Celestial Family Day Award in Recognition of Selfless and Spiritual Services Rendered in various Capacities, etc.
According to the Asade Agunloye royal family of Ilaro, the final burial ceremony of the business mogul and social-economic development icon, holds between Friday, October 1 and Saturday, October 2, 2021.
The Publisher/Edfitor-in-Chief and members of staff, StarTrend Int'l & GatewayStar magazines and online – www star trend international.com commiserate with the Asade Agunloye Ruling House of Ilaro, families, friends and relations of Prince James Adedeji Olugbenle, the illustrious son of Ilaro-Yewa who departed to the great beyond. May God grant him eternal rest.