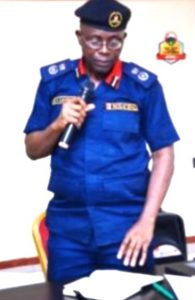 A PAPER PRESENTED BY COMMANDANT HAMMED ABODUNRIN COMMANDANT, NIGERIA SECURITY & CIVIL CORP (NSCDC), OGUN STATE COMMAND AT THE INAUGURATION OF NEW EXECUTIVE OF
RECREATION CLUB, ILARO ON SATURDAY, FEBRUARY 13, 2021
1. PROTOCOLS
2. INTRODUCTION:
I want to first appreciate organiser(s) of this event for choosing a right topic at a very ripe time: "THE DANGER OF FAKE JOURNALIST AND FAKE NEWS".
You will agree with me, that this topic forms part of the Nation's man-made problem.
Without much ado, let me start by asking the audience, some pertinent questions, as we embark on this interactive session.
-What is journalism?
– Who is Journalist?
– What is a News?
– What are qualities of a Good News?
– What are ethics of Journalism?
-News breaking, whose responsibility?
-The Strength of New Media (social media)
-Hazards of New Media?
-What is a Fake News?
-Position of Constitution on Fake News.
-Implication of a Fake News on the society.
-Role of security case(s) of a fake news.
STRAIGHT TO THE POINTS:
WHAT IS JOURNALISM?
Journalism is the production and distribution of reports on current events based on facts and supported with proof or evidence.
Distinguished audience, kindly takes note of the key words:
(1) Report on current events
(2) Based on facts and
(3) Supported by evidence.
WHO THEN IS A JOURNALIST?
A journalist is someone who reports on current events by gathering relevant information and then presenting that information to the public.
Depending on their specialty, journalists can be writers, TV reporters and photo or video journalists, each using their specific medium to craft engaging stories that resonate with the public while delivering important information.
WHAT IS A NEWS?
News is an account of an event. Either to inform, educate or entertain. For instance, "…when a dog bites man, it's is never a news, but when man bites dog, it becomes a good news…"
QUALITIES OF A GOOD NEWS
1. Accuracy
2. Attribution
3. Fairness/Balancing
4. Brevity
5. Clarity.
WHAT ARE THE ETHICS OF JOURNALISM
1. Accuracy and standards for factual reporting.
2. Slander and libel considerations.
Harm limitation principle.
3. Standards and reputation.
4. Genres, ethics, and standards.
5. Relationship with freedom of the press.
NEWS BREAKING, WHOSE RESPONSIBILITY?
1. A certified Journalist
2. Relevant Stakeholder
3. Eye witness (With credible evidence)
THE STRENGTH WEAKNESSES OF NEW MEDIA
WEAKNESSES:
Challenges of regulation—formal regulation by govt through control and censorship,
Ethical lapses that come from being free; information processing challenges –misinformation, disinformation, information overload and information under load.
STRENGTHS:
From a consumer to becoming a citizen, participant, producers, creators of messages, services and products; increasing role of citizen especially youths in the social, economic and democratic development of the country.
Exposure to lots of information, Anonymity of user which provides opportunities for freedom of expression in repressive contexts. Identity formation – by adopting different names, writing styles, images for their digital "selves".
HAZARDS OF NEW MEDIA:
1. CYBERBULLYING: (bullying using digital technology)
2. INVASSION OF PRIVACY
3: IDENTITY THEFT
WHAT IS A FAKE NEWS?
Fake news is false or misleading information presented as news. It often has the aim of damaging the reputation of a person or entity, or making money through advertising revenue.
TYPE OF FAKE NEWS:
What makes it fake?
* Fake in content
* Half truth
*Too old for contemporary issues
*Unrelated matter
*Outright falsehood
*Sender's ignorance (he or she is also a victim)
IMPLICATION OF FAKE NEWS
*It gives emotional stress
*Affects Sender's integrity
*Capable of causing crises
*Ethnic disaffection
*Affects real information
ROLE OF SECURITY AGENCIES CHECKMATING FAKE JOURNALIST AND FAKE NEWS
*Give timely information
*Confide off record in journalists
*Use relevant existing law to prosecute purveyors of false information.
HOW TO COMBAT FAKE NEWS BY ALL
This is more important. As consumers of news, it is our collective efforts to checkmate the proliferation of fake media and news. Here are ways:
CONSIDER THE CREDIBILITY OF THE MEDIUM.
Today, nearly anyone can be a journalist. So, as you consume "news", look at the source to determine the likelihood of truth and accuracy. Is it on a satirical website? Social media? Blog? Unless it's from a credible news source, be weary that the information could be fake.
DO YOUR RESEARCH.
Ninety-percent of statistics are made up. But point being, statistics are a popular way to draw in consumers and create the illusion of truth. So, don't take them at face value. Check the citations and dates of research to ensure it's from a reputable source and not outdated. For instance, a study or statistic could have been true at some point, but if it's more than a few years old, the information could no longer be fact.
FIND THE SOURCE
Wondering if a story, stat or claim is true? Don't just google to see if the information is on other sites. Remember, once fake news is printed, it is often re-shared in many other outlets to make it seem as if it is true.
Now that you know how to spot fake news, the only way to combat it is to be vigilant to put a stop to its recirculation. If you see a friend sharing inaccuracies – ask them to remove their post. Add comments to articles stating the false claims, adding a link to the accurate information. We can't stop fake news, but we can at least do our part to keep it from being reposted or repeated.
IS THE SENDER ASKING YOU TO RESEND?
IS HE SHOUTING AND EMOTIONAL IN THE SHORT VIDEO?
WHAT IS HIS RELIGION, TRIBE, TOWN?
DO YOU KNOW HIM/HER?
IS THE INFORMATION UNBELIEVABLE?
IS IT A FOWARDED MESSAGE?
HAVE YOU SEEN IT ELSEWHER, BUT NOW EDITED TO REFLECT ANOTHER AUTHOR? ETC
*Always remember that if it's too outrageous to be true, it's almost likely to be false!*
WHERE CAN I CHECK
CONCLUSION:
When we consider the points made since the begining of this discussion, one can conclude that, the proliferation of news sources vis-a-viz conventional and social media should be adequately checked.
Modern technology is fast wiping professional journalism. Thereby bringing about quackery and amateur journalist or better put, fake journalist.
Ethics of journalism is being neglected, abandoned and jettisoned. As a result, journalism is confronted with challenges of regularization.
Fake journalist spreads fake news without sanction. Audiences are fed with counterfeit information.
All these calls for urgent actions from relevant stakeholders.
On this note, the following are my recommendations.
RECOMMENDATIONS ON REGULARIZATION OF CONVENTIONAL AND NEW MEDIA.
1. Awareness should be created so as to enlighten people who use the social media to avoid spreading unverified information.
2. Social media should propose ways of reducing post of unverified information.
3. Authorities should propose laws that will frighten against spreading fake information without clamping on people's right to express their views.
4. There should be control on how to register and operate social media handles.
5. There should be adequate prosecution for anybody that spread information that harm others so that it will serve as lesson to others.
6. Nigeria Press Council and National Broadcasting Commission should come in as instruments of control and there will be professional censorship without tampering the freedom of expression.
7. Government should vamp up it communication machineries to counter the spread of fake news.
8. Concerted efforts at global level is necessary to the point of sanction the media that spread fake news. If traditional media are sanctioned, why not new media?
REFERENCES:
1. Credibility Institute (2017) Source credibility theory.
2. Fajonyomi AA, Fanjonyomi MG (2003) Research process in education and social sciences. Lagos; Goldy O Publishing Company pp: 48
3. FALLS: January 30, 2020 | Kristi Stolarski
4. The Guadiana (Oct. 29th 2019) Govt. to regulate social media.
5. Wikipedia: Ethics of journalism
6. Yumpu (2020) Breaking bad news, whose responsibility?