Oba Lukmon Kuoye, a technocrat, is the recently installed Olu of Imasayi. In this interview with AbuSatar Hamed & Simon Fakeye, the loving monarch opens up on the journey to the stool of his fore-fathers and the ongoing progress in the ancient town. Excerpt.
Kabiesi, throughout the preceding weeks of your installation as Olu of Imasayi, there were protests to register divided house over your selection, infact, on the morning of the installation day, some people were seen expressing anger, praying that you shouldn't be given the staff of office, however, at the venue of the installation, it was a different scene entirely; the joy on the faces of indigenes of Imasayi and dignitaries in their thousands, and the merriments really say it all, Kabiyesi, how did you feel at that moment you received the staff of office amidst pomp?
I was highly elated. In Spite of all the shenanigans to halt the installation, Allah eventually showed his greatness. I will remain grateful for the unalloyed support of the Ogun State government, the religious groups, and the youths who stood by me. Infact, I was surprised that despite all the plot, we could still witness such a great crowd of the people of Imasayi and well-wishers from far and near at the event.
In one of your speeches during the selection process, you promised to immortalize the immediate past Olu of Imasayi, Oba Gbadebo Oni, Kabiyesi, in what particular way do you intend to do that?
Well, Oba Gbadebo Adesola Idowu Oni has done his best. He didn't leave Imasayi the way he met it. So, in order to show appreciation for his contributions for the growth of Imasayi in his 30years Kingship, I deemed it fit to immortalize him.
As Yorùbá would say, arise la ríkà. Aríkà baba ìrègún (compensation begets more volunteering). Immortalizing the late Oba Gbadebo may impress his children; they may be happy that Imasayi appreciated the developmental contributions of their father. So, by God's grace, sooner, I am going to lay the foundation of Oba Gbadebo Adesola Idowu Oni Pavilion.
An hour ago, the Council of Chiefs has just approved the resuscitation of Olu-Aso Festival, meaning that the grand finale of the Festival could be holding at the Oba Gbadebo Adesola Idowu Oni Pavilion. Infact, plans are in top gear to commission a road in Imasayi constructed by Dangote Ibese Cement during my birthday coming up on April 18, 2022 or during my one year coronation anniversary. The road is planned to be named after the late Oba Gbadebo Adesola Idowu Oni.
Kabiyesi, you also promised to give Imasayi a face lift, how far about that sir?
Immediately I resumed office, some concerned Imasayi indigenes and myself have been paying salaries of some privately employed teachers to assist in teaching our children at Olu-Aso High School, Imasayi. Also, because of my relationship with NYSC Directorate in Ogun State, over the years, Olu-Aso High School, Imasayi have been enjoying the teachers among the coppers.
Our efforts at giving sound education to our children in Imasayi was not limited to secondary school, I have also facilitated building of classrooms in our primary school. I am equally in contact with the Nigerian Army to approve a Command School for us in Imasayi, because I noticed that there is no Command School in the whole of Yewaland.
As per tertiary institution, presently, we are working on getting a structure to house the National Open University of Nigeria. As we speak, one of the sons of the soil has promised to facilitate the establishment of the institution as soon as the requirements are met. Also, as part of the developmental plan for Imasayi, the foundation of a Housing Estate will be commissioned opposite Olu-Aso High School, Imasayi.
Not only that, very soon, Chief Lawson would begin construction of a big firm at Maria, a suburb of Imasayi. As well, Olabem Farms has commenced the rehabilitation of Olabems Farms road along Maria/Eleyo to Aga-Olowo town. Meanwhile, our elders would say, charity begins at home, the whole facelift of Imasayi has begun from this Palace. You can see that renovation is in progress to make it a standard Palace that befits the distinguished Council of Chiefs.
In fact, I started rehabilitation when I was in seclusion (Ipebi). Then it was not up to one third of this size. So far, I am happy that God has begun to answer my prayers for Imasayi town which primarily is about moving Imasayi forward
We are aware that a section of Imasayi is not in agreement with you becoming the Olu of Imasayi, how far have you worked to reconcile with them?
My brother, I have tried my best. Infact, my previous constituency has helped me to go an extra mile in trying to accommodate them.
As a former political office holder, I have the orientation that any position given to you should not be taken for granted because many people would have loved to occupy the position, so it's pertinent that I should accommodate everyone.
I have made a series of frantic efforts to bring them in. The Regency Council actually performed beyond expectations. The problem is internal; a situation where the person that is supposed to do the sharing of an estate wanted to have the estate, definitely there is bound to be a problem.
It is surprising that Chief Yemisi Oluyomi who was then the Chairman of the Regency was equally interested in becoming the Olu of Imasayi, meanwhile he was not from any of the ruling houses. He has been the one drumming discord here and there.
But good enough, majority of the Chiefs have realigned themselves with the decision of the good people of Imasayi, infact, it is just the two Chiefs; Asiwaju (Yemisi Oluyomi) and Eselu who are not for the King, such that one of the contestants, whom I thought may stick to his guns was even at the Chiefs' meeting today. Infact, he has proved a high level of loyalty to my developmental agenda.
Had I known that the majority of the Chiefs would return, I wouldn't have installed new Chiefs. Almost all of them have returned to the Palace. On the issue of Balogun, there was a precedence; Oba Gbadebo Adesola Oni spent 30 years on the throne without any Balogun, and also Oba Adenle did not allow him in his palace throughout his reign.
As I always say, I have never wanted to become a King. By the time the selection process began, I told people I wasn't interested; reason I said I owe some people apologies. It was my family that preceded me. Of course, I didn't have other options than to abide.
As a matter of fact, I have just received the acceptance letter of my resignation at NIMC yesterday. I suppose to be pensionable by 2023 which was my initial target. Because when I left the government in 2011, I decided to take up a pensionable job at NIMC, after the interview, I was given an appointment on level 9, and was fortunate to leave as Senior Manager but not pensionable.
What effort has the Council of Chiefs made in getting the other two Chiefs to your side, Kabiyesi? 
They've been trying to let the two see the reason why they should cooperate with the people of Imasayi, but they still proved difficult. They told me the two Chiefs are not likely to return sooner. They said the two Chiefs are of the mindset that they can't prostrate for their younger brother.
I think you know Otunba Akeem Adigun (Socopao), he has advised the Asiwaju to drop the fact that he is older than the King. He cited instances where former President Olusegun Obasanjo prostrated for Obas, the recent which was that of Oba of Warri, who is not the age-mate of Baba Obasanjo's last born. But these chiefs are just adamant.
Unfortunately, the Council of Chiefs has ratified the issues of the two Chiefs; they agreed that they should be replaced. And according to the Obas and Chieftaincy Law, we will set up a disciplinary committee who will invite them, and whatever the Committee comes up with about them, so be it.
Now that you have settled down as Olu of Imasayi, how has the Oloris, Prince and Princesses fairing?
I have brought everybody here. Though, the relocation of my Olori has paralyzed her business. When she returned to reconcile her account, several millions of naira were missed. But I assured her of another arrangement sooner. Six of my children are graduates, and the younger ones have resumed at the Islamic Schools being the one they attended before destiny brought us back home to Imasayi.
Hope Kabiyesi is planning to have Aya Oye?
No, I have told my family that I have had enough women in my life, as well, I have gotten enough children.I have mingled with a lot of people who are responsible; I have realized that too many children and wives are not too good.
However, the fact remains that, there has been a lot of pressure from ladies and friends who would love to be Oloris and in-laws to Olu of Imasayi, but I have to be sincere with you, I have gotten enough wives.
What can you say about people who migrated to another place, forgetting their roots, but by the time there is an opportunity to vie for one position or the other, the people at home now disown them? 
With the kabiyesi we have as our Paramount Ruler of Yewaland now, he has been working and telling everybody that if your root is Yewa, and you are residing elsewhere as far as Kano, you must start coming home. He advised that if such persons can't relocate home, they should be relating with the people at home, regularly.
That's the advantage I have. Since I became Aare of Imasayi in 2005, I have been coming home. I have bought the land where I built my house since 2006. The landed property upon which I have dug boreholes for people was also bought in 2006. Even at Christ Church Primary School, I have a house there. But I just want to encourage everybody to retrace their roots. It is very important. It is not because of today, but because of tomorrow; it is advisable they trace their roots. They should come back home. If not, usurpers would steal their rights.
What is your opinion about the position of Yewa in the governance of Ogun State? 
I must be sincere with you; there's is nothing to write home about. Infact, when I was in the cabinet of the OGD government, it was not as bad as we think. Though, it is not the fault of any Governor, but the fault of the Yewa people. Any Yewa person that has an opportunity to be placed or given appointment will not want another Yewa person to benefit from his position.
It is not that the Ogun State government or Governor Dapo Abiodun is bad, it is the Yewa people who don't like their kinsmen to attain the same position they are. If Governor Dapo Abiodun should tell Alhaji AbuSatar Hamed that he wants to appoint Simon Fakeye, it is Alhaji AbuSatar that will tell the Governor that Simon Fakeye is not good, he would say he is not loyal and all that.
You could remember during Baroyin Kayode Odunaro's 60th birthday, Chief Olusegun Osoba said that Yewa people are the problem of each other. He said it was the Yewa people who didn't want him to offer the appointment to Baroyin Odunaro. According to Chief Osoba, he wanted Baaroyin because of his experience and intelligence, having worked with two military administrators, but Yewa people preferred Chief Elegbede. Unfortunately, Chief Elegbede could not hold forth, but Baaroyin was later appointed.
As a prominent monarch in Yewa land, what is your view about disunity among Yewa sons and daughters? 
As one of the first class Obas in Yewaland, and an Oba that is very loyal to the Paramount Ruler of Yewaland, I always respect my leaders, because I am not the one that put them there, it is God. They didn't put themselves there. It is God that did it.
I can tell you that my neighboring three monarchs were absent at my installation, but today, I am with Abepa of Igan-Okoto. As for Adokun, if I guess right, I have become his dearest to an extent that he always loves to have me accompany him abroad. I do spend good times with Aboro. Talk of Ololo, he is my twin brother. I'm happy to be friendly with my fellow kabiyesis, and we shall remain friends till eternity.
And as one of the key members of the Yewa Traditional Council, I have talked to many of us to let us make the adjustment top-bottom in order to enable a true sanitization of our Council first. From there, we can take the campaign to other stakeholders. For instance, since I was given the staff of office, our Senator, who stays in a stone's throw to this palace, hasn't visited here; he installed thirty something solar powered street lights, but refused to install just one in Imasayi.
I have even suggested during my chatting with one of us that we can do things differently at the coming elections; we may unanimously share the positions among our politicians at least to be able to speak in one voice. I believe if we present it in a sincere and polite manner, they will all oblige. The secret is that they shouldn't see us as already taken side. As for the governorship seat, we must look for a candidate that is capable in all ramifications; money for money, connections for connections and what have you.
Some weeks into your installation, there was a fracas between Iboro and your people at Imasayi, what are you doing to make up?
We have resolved it. It can always happen, and we will continue to settle it because everybody would have reason to claim his or her right at any point in time.
In view of the recent adjustment in the Obas and Chief law of Ogun State, do you think the government has done better?
All that the government has done is to condemn mutilation and cannibalization of the late Obas. Realistically, before I became Oba, I was a member of the Shamsideen sect. But whatever the traditionalists say, je je won ni won wa that I have agreed to come, and whatever they believe in they would give me and I would collect it. My position is that I will continue to be loyal to them.
My predecessor was given a befitting burial; there was lying in state, he was taken round the city and what have you as a sign of honour. He wouldn't have been mutilated or carnibanized because of his adherence to the tradition. I was involved. Infact, his burial rites were a key factor during the debate at the Obas Complex at Oke-Mosan, Abeokuta.
Your message to your people in Diaspora? 
Yes, I am appealing to them to always remember their roots, and not ignore the Olu-Aso Festival. I would soon inaugurate a committee on Diaspora. At least, I can boast of Chief Toye Moses, who has been in the US since 1968 and he is very conversant at home. No day has gone without him saying hello to me. He would always ask what is up at home?
So, I am using these mediums to invite them to come and invest in the land. Ile labo sinmi oko. Some of them may not like to come to Imasayi like Tunde Elegbede who is in the US, but are planning to build a Studio in Imasayi. It is because of the relationship. I have Lekan Omoniyi in Canada, who has changed his mind about investing in Imasayi; his 13 acres of land in Imasayi was taken away from him, but I have resolved the matter, and another 13 acres has been allotted to him.
My prayers for sons and daughters of Imasayi at home and Diaspora is that Allah will continue to bless them such that they would be able to have enough to invest at home. Amen.
xxxxxxxxxx
OBA LUKMON IN THE EYES OF HIS CHIEFS
Oba Kuoye Working To Ensure Imasayi Become Town Of Our Dreams – Baase of Imasayi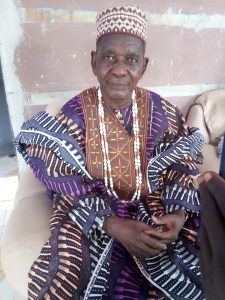 Chief Waheed Akanni Ojetola, the  Baase of Imasayi in this interview with StarTrend Int'l magazine opens up on Oba Kuoye's administration. Excerpt.  
Sir, as one of the longtime Chief of Olu of Imasayi, is the new Kabiyesi, Oba Lukmon Kuoye meeting up the expectations of sons and daughters of Imasayi?
Yes, he is quite meeting up with our yearnings.
Would you like to be specific?
Of course, Oba Kuoye is very active. The way he started, it is clear that in no time he would move Imasayi to a greater height. He has been a Chief, Aare precisely, before he ascended his forefather's throne as Olu of Imasayi. Since he came on board, he has been pulling his weight to ensure Imasayi becomes the town of our dreams.
What have been your efforts at bringing the erring Chiefs back to the Palace? 
As an elderly Chief, I have talked to them, enlightened them on the fact that there is only one person that can occupy the throne at a time, so no matter the number of the contestants, only one Olu of Imasayi must emerge. It is then bestowed on the other contestants to accept the will of God and support the popularly elected Oba Kuoye.
So, I would advise the Kabiyesi to invite the families of the two Chiefs, and ask them to bring another person respectively to replace them.
Oba Kuoye has been on the throne for some months now, can you point at any developmental project he has started?
There are many. He started from the Palace here. The renovation was started by the Regency Council, but as soon as he resumes, he has taken it up. Anyone who was here before his installation would no doubt notice a great change as a result of the renovation.
He is working every day to reposition Imasayi to a higher level.
My only advice to the King is that he should be patient, listen to advice from everybody but take his time to meditate over advice, and do the needful.
I am saying again that we the sons and daughters of Imasayi should cooperate with the Kabiesi as he is a God-given. We should rally round him in support for the benefit of all of us.
xxxxxxxx
I Love Kabiyesi's Involvement Of Youths And Women In Administration Of Imasayi – Lukotun Of Imasayi
Chief Mukaila Adeleye is the Lukotun of Imasayi and in this interview with StarTrend Int'l magazine talkedextensively about Oba Kuoye, his administration and Imasayi town. Excerpt.  
So far, are you impressed by the actions of Oba Lukmon Kuoye in his last seven months on the throne?
One of the good initiatives brought about by our Kabiyesi was the involvement of youths and women in the administration of Imasayi.
Infact, his way of handling the aggrieved two Chiefs has truly shown his readiness to create a peaceful atmosphere in Imasayi.
For me, my conclusion is that he who aspires to other people's rights will no doubt fail. In Imasayi, we have two ruling houses; Aribio and Oyesiku Houses. For a fact, the agitators don't belong to the Oyesiku ruling house, and they insist that they must be chosen, who does that? Perhaps they believe in the saying that money can buy anything.
What is that thing that you like to tell Kabiyesi to do that he has not been doing? 
Presently, he is on the right path. He has appointed various committees appropriately; committee on education, chieftaincy and dispute, health, conflict resolution and many more.
xxxxxxx
I Don't Have Time For Dissidents – Jagunmolu of Imasayi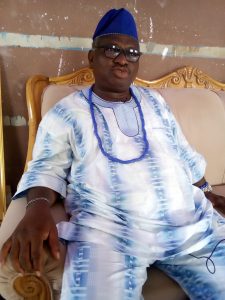 Olurotimi Aina Kusoro is the  Jagunmolu of Imasayi. In this interview with StarTrend Int'l magazine opens up on the Olu of Imasayi, his administration and development. Enjoy!
As a Chief in this Palace in the last ten years, how would you describe the start off of Oba Lukmon Kuoye? 
Oba Lukmon Kuoye has been part of this Palace in the last ten years. Two of us were installed as Chiefs of Imasayi the same day. The other person was installed in Imasayi.
When his name popped up as the Oba-elect, how did you feel as one of his intimate friends and colleagues? 
Before his selection, we were in a struggle together. Both of us have been in the struggle from scratch – A to zone Z.
How many developmental projects have you presented to Oba Kuoye for execution?
Let me tell you something, Imasayi is lucky to have somebody like him as our Oba, and that is the reason I supported him from the scratch.
Some of us have travelled far and wide, we have seen good things that we want to replicate at Imasayi, which we believe that to make it happen, we should put in place somebody like Oba Kuoye, going by his antecedents.
He has been a Vice Chairman of one of the highly populated local governments in Ogun State for more than two tenures of three years each. He's been the Secretary of a local government. He's been a Liaison officer to former Governor Gbenga Daniel. He's gone through many posts in the political geography of Nigeria.
He has worked in a company up to the position of a Senior Manager at NIMC. What else. I am so proud of him. I said at the meeting of the Council of Chiefs today that for us to have an Oba that is awaiting his PhD, it's a privilege to the Imasayi.
Numerous good ideas are running in his head. And that is the type of monarch that Imasayi has been longing for. If there are twenty things to do for Imasayi, I hope that by the end of his reign in the next fifty five years, he must have accomplished it all.
Kabiyesi mentioned some of his efforts at reconciling with the two Chiefs who would not come to terms with him, what are you Chiefs doing to bring them in?
As a Chief, yes, but as a person, I have a different opinion about it. As a member of the Council of Chiefs, well, they are lucky I am not the Oba because I would have removed them. I don't have time for dissidents. If you are dissident in the Army, you will be charged for coup and once you are charged for military coup, you are a goner.
As a Chief, it has been, be patience, be patience, yes we will continue to be patient. But as a person, the son of Kusoro, I am sorry, noooo. I don't take any cheat from anybody. Once you have gone beyond your boundary, I break your legs.
Look, for any good thing, twenty people will run after it, but once one person gets it, the remaining nineteen should queue behind that person and make that thing work. It is the way in a saner society. But here, as soon as someone made the Oba, the rest would begin protesting. Bullshit. I don't see any sensibility in it.
In the near future, what do you think Imasayi people should be expecting from Oba Kuoye and his Chiefs? 
I tell you something, this is a man that has foresight, projections for Imasayi. In the last six seven months he has been made the King, look at how the Palace has looked like?
I have been in this Palace when it was one third of this size and reddish as it was made of clay. It is one of the two palaces in Ogun State that has been begging for rehabilitation.
Look at what he has turned this place into. If you haven't been to Dangote's office, his office is not better than this. Have you been to Eskimo's village? That was how it was looking. That is what the majority of us Chiefs are looking at, somebody who understands development, somebody who is moving with time.
Oba Kuoye is an Oba that I want to encourage other towns that are yearning for Oba to emulate. Look for people that have it good upstairs.
I wish Kabiyesi a long life, good health. He should stop giving birth to children.
XXXXXXXX
Oba Kuoye Is Best Thing To Happened To Imasayi – Otun Iyaloja of Imasayi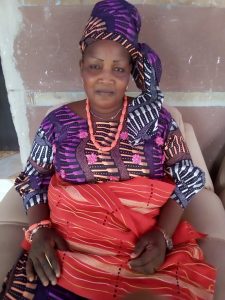 Chief (Mrs.) Modrakat Adeosun has described Oba Lukmon Kuoye as the best thing to have happened to Imasayi and any fortunate being.
The Otun Iyaloja of Imasayi, stated this during a recent interview with StarTrend Int'l magazine at Imasayi, saying, "Since ascension of Oba Kuoye on the throne of his fore-fathers, his name has been yielding.
'Olalekan is our kabiyesi, Imasayi fortune has been increasing. Adeleke, Imasayi is now abounding in good things. So, he is a good omen for Imasayi."
She disclosed that Oba Kuoye is a listening monarch, stressing that "He is free and sincere with everybody. Kabiyesi has been wonderful.
"Kabiyesi is doing his best for the town. He has been patient enough as any loving father would handle a rebellious child, it is unfortunate that the opposing two Chiefs were not yielding."
xxxxxxxx
Within Seven Months Of His Administration At Imasayi, Oba Kuoye Has Performed Creditably Well – Chief Ajayi
Chief Bolarinwa Ajayi is the Akinrogun of Imasayi. In this interview with the StarTrend Int'l magazine Secretary to the Council of Chiefs of Imasayi opens up on the sundry issues affecting the Imasayi community. Excerpt.
Can we meet you sir?
Chief Bolarinwa Ajayi is the Akinrogun of Imasayi. I was installed by the new Olu of Imasayi, Oba Lukmon Kuoye on the day he was given the Staff of Office.
If you were to rate Oba Kuoye in the last seven months, what would you say?
I served the late Oba Gbadebo Oni as the Youth Leader. I was also a member of the Elders Council Committee.
Presently as a Chief, and the Secretary to the Council of Chiefs of Imasayi, I can confidently say that Oba Kuoye in his seven months administration over Imasayi has done credibly well.
Can you give details of any improvements that Oba Kuoye has brought upon Imasayi?
Yes, I don't know if you have been to this Palace before the demise of the late Oba  Oni, then and now, you would have noticed a great positive change. Now, on education, Oba Kuoye has brought about improvement.
He met three teachers on ground at Olu-Aso High School, Imasayi, and immediately he ascended the throne kabiyesi instituted Education Committee, and today, we have additional five teachers and four NYSC members.
When the committee presented their report today, as the Secretary of the Council of Chiefs, I was impressed about positive changes in our schools.
Infact, recently, the Principal visited Kabiyesi to register his appreciation for the monarch's efforts.
Prior to, and on the installation day, there were protests against the coronation of Oba Kuoye, sir as the Secretary to the Council of Chiefs, what steps have you taken in order to have one house? 
Since the first day Kabiyesi was installed, he has been working tirelessly to unite everybody. His sermons have been based on the fact that he does not want to rule over a divided Imasayi. He wants everybody to come together. And he has done his best. He spreads the hands of fellowship to everybody but it appears the two opposing Chiefs were not receptive, especially, the Asiwaju Yemi Oluyomi.
The reason as it appears is that Asiwaju believed the crown of Imasayi was in his pocket; Asiwaju had no stake in the Obaship selection in Imasayi. He is not among the kingmakers nor is he from any ruling house that should produce the Olu of Imasayi. Infact, I knew Oba Kuoye through Asiwaju, so I am now surprised that he could become his arch enemy so soon.
The truth is Oba Kuoye has tried a lot. Immediately after his installation, no,
After the election by the kingmaker, Oba Kuoye called other two contestants; Prince Olude and Ramon Ajayi, and asked them to join hands with him to move Imasayi forward saying, "There is no winner, there is no vanquish", but these two refused. Unfortunately for them, the majority of their supporters rescinded and returned to Oba Kuoye. Today, except the two opposing Asiwaju and Eselu, we the chiefs and people are relating very well with our new kabiyesi – Oba Lukmon Kuoye.
What advice can you give to the Olu of Imasayi, Oba Lukmon Kuoye?
I have told Kabiyesi to suspend the two Chiefs. Infact, we discussed it at the meeting today, after all, the Obas and Chiefs Law has it that if any Chief would not perform his duty or not cooperating with the monarch, the title should be taken away from such a person and be given to whoever is ready to serve the community.
xxxxxxxx
Imasayi Council Of Chiefs Have Resolved To Work, Cooperate With Oba Kuoye – Chief Fatolu
Babaloja of Imasayi, Chief Ganiu Fatolu has said that all members of the Imasayi Council of Chiefs have resolved to work and cooperate with Oba Lukmon Kuoye. 
Chief Ganiu Fatolu who stated this recently during an interview with StarTrend Int'l magazine at the Palace of Olu of Imasayi said, "Unlike the two opposing Chiefs, Oba Kuoye was once our colleague as Aare of Imasayi, but now that God has uplifted him as a King over us, we don't have other options than to accept him as our Kabiyesi, and cooperate with him."
Babaloja of Imasayi stated further that Oba Kuoye has invited the two opposing chiefs, severally, "but they wouldn't oblige; to me, that is their problem.
"We have installed our King, whoever chooses otherwise is deceiving himself or herself."
xxxxxxxxx
Oba Kuoye Is A Friendly Monarch – Oluwo Of Imasayi
Chief Nafiu Akinola the Oluwo of Imasayi has described Oba Lukmon Kuoye as a friendly monarch who is closer to Chiefs of the town.
       The Oluwo who stated this recently during an interview with StarTrend Int'l magazine at the Palace of Olu of Imasayi disclosed that Oba Kuoye listens more to them, saying the monarch always shows consideration to his subjects. 
His words, "My advice to Kabiyesi is that he should continue to be diplomatic, especially with Asiwaju who made us believe he would be fair and neutral in the selection process, but eventually found to have ulterior motives.
"Despite Asiwaju's opposing role, after the installation, Kabiyesi went to him, appealed to him as an elder brother to support his administration, but Asiwaju would not agree.
"For me, when there was a choice to make, I didn't wait to pitch my tent with Oba Kuoye. True sons and daughters of Imasayi should continue to join hands with Oba Kuoye to move the Imasayi forward.
"As Oluwo, at our Iyarinu Lodge, we have resolved to stay behind Oba Kuoye, and we have been supporting Kabiyesi in all his efforts towards getting the remaining two Chiefs to the Palace.
"Our Iledi is a progressive Iledi; youths are the majority, infact, during the seclusion period of Kabiyesi, we were with him, and he accepted us."