By Seyifunmi Odunuga
Ambassador on Culture and Tourism to Oyo State Government, Alhaji Taiwo Abdulrasheed Akande Adebisi, Apesin of Fuji music, fondly called Taiye Currency is not just a man but a selfless, courageous and distinguished Nigerian.
The man who has constantly remain a force in the music industry and a rallying point to fuji musicians in Nigeria.
Alhaji Taiye Currency is deeply sound in knowledge, cautious and highly intelligent in dealing with issues.
He is a man who has distinguished himself among his peers as a light and pillar to many structures. A model in annals of Fuji kingdom.
Constantly he is always cautious of what comes out of his mouth but factual and blunt. He is highly diplomatic and calm.
Sometimes I wonder, what led him into Fuji music? I can't phantom it because he is too refined, calm and intelligent which has made many of his friends call him a Professor of music.
Currency's recent album can testify to this fact which I believe it will be an evergreen and philosophically narrated.
Alhaji Taiye Currency's involvement in the emergence of the present government of Governor Seyi Makinde is indelible.
Baba Honourable as he's also called has continued in a frenzy to drug people with his philosophical music, very deep in meaning.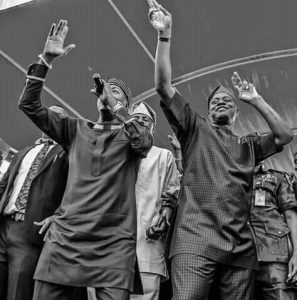 Another trend of his music is "Ibi opo nsise bi akura ti nwon o de lowo na. Opo nsise bi faaji Ibi ti nwon ba joko ni kukusi mba won. Ta'ba sise epini nwon a jere repete "
He did this songs again in Iseyin during the World Tourism Day, packaged by Oyo State government and the songs did the magic.
It drugged the audience so well and dragged them to join him on the stage.
Kudos to Taiye Currency. kudos to all Fuji exponents.
Happy birthday Alhaji Taiye Currency as you celebrates your 46 Years on the surface of earth.