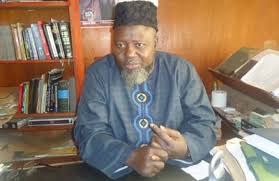 Leading telecommunications company, MTN Nigeria, has come under heavy criticisms by its subscribers over a total blackout of its services in Kogi State and disruption of its services in neighbouring states.
The Kogi State Internal Revenue Service (KGIRS) had on Thursday January 24, 2019 shut down the facilities of the telecoms giant over its alleged failure to pay its N120 million tax obligations.
It would be recalled that KGIRS had on October 2018 shut down MTN facilities and its base stations in the confluence state after getting the nod of the State High Court to halt the services of the company.
The shutdown of the facilities has sparked outrage among its subscribers who have taken to social media to express their anger and frustration over the effect it has on their businesses and social lives.
A citizen of the state, who is resident in Kogi State, Kemi Sisi Eko, wrote on her Facebook page: " MTN won't pay tax and Government shuts them down, who loses, their subscribers ' lives depend on them, businesses depend on them and now MTN's dereliction of duty is affecting us all. Since yesterday MTN has been shut down in Kogi State, this had made life and doing business very difficult. I have a backup Glo sim, but Glo internet is the most useless on this side of the Milky Way. How do we protest this?'' she queried.
Another Kogi-based Nigerian, Henry Francis-Folaranmi, wrote on his Facebook page, "MTN's refusal to pay their tax and their eventual shutdown has scorched us to the fierce fire of suffering!''
Henry added in another post, "Even though there is a way out of an escape from this MTN's pain and sorrow, their bonds of evil and devilish perpetration must be broken!"
Reacting to this development in an exclusive interview with the media, the President of the National Association of Telecommunications Subscribers (NATCOMS), Chief Deolu Ogunbanjo, called for caution on the part of Kogi State Government.
Ogunbanjo added that shutting down the facilities of the telecoms giant was not the best option the government could explore.
"I 'm sure they can do better. Kogi State citizens will not thank them for it at all. MTN and indeed some other telecoms companies have been complaining about multiple taxations. Government is looking at telecoms as a serious revenue earner whereas it should be looked at as an essential service. I'm not saying they shouldn't pay tax. The regulators can come in and narrow down whatever taxes telecoms companies pay", he said.
Also, commenting on the development, Chairman of the Association of Licensed Telecommunications Operators of Nigeria (ALTON), Mr. Gbenga Adebayo, said there was a need for digital national infrastructure to insulate telecoms companies from interferences.
He said ALTON was already in discussion with the Kogi State Government and other stakeholders in the state, stressing that the matter would be resolved in a matter of days.
Meanwhile, in a statement made available to the media, MTN has denied any wrongdoing. The company claimed the state government was demanding immediate payment of Social Service Contribution levy, Employee Development levy, and annual rent for Right-of-Way on fiber optics cable.
According to Tobechukwu Okigbo, MTN's Corporate Relations Executive, the Taxes and Levies Act which introduces the Social Service Contribution and Economic Development levies mandates the Joint Tax Board to recommend chargeable fees which will be subject to the Minister of Finance's approval.
"To the best of our knowledge, the Minister of Finance's recommendation as provided in the Act is yet to be issued, and as such, it is unclear if the imposition of the fee by the Kogi State Government is on a solid legal footing. As a responsible corporate citizen, we accord the highest priority to our sub-national tax commitments. We wish to state that we have met in full all our tax obligations to the Kogi State government and are not in arrears," he said.
Going further, he said: "On request, we have furnished the KGIRS on multiple occasions with documentary evidence proving our full compliance with extant state laws on the matter. At this stage, the demands of the KGIRS, if honoured, amounts to multiple taxations and the arbitrary shut down of our base transceiver stations and harassment of our partners will stand in the way of a reasonable resolution."