By AbuSatar Hamed
A movie, "Ilu America" (Land of America) that makes viewers understand life and culture from various ways of ethnicity and learning of life in various part of the world is about to hit Nigeria's big screen.
According to a release e-signed and made available to StarTrend Int'l & online – www.startrendinternational.com by Amb. Cornel Udofia, President & Cordinator, CMC Gladiators of Repute and Cornel Entertainment, the grand-breaking of the movie in Nigeria is coming soon.
"Ilu America" brainchild of Taiwo Oduala, a Nigerian-born actor, movie producer and director, is a reality story of ordeals and survival of immigrants in foreign land, and the screening was live in Hollywood, Los Angeles, California.
Oduala, the veteran actor who is also a Nollywood legend with many movies and awards to his credit is maker of the first indigenous African Language movie to be shot and premiered on big screen. "Ilu America", is a movie that made history when it was premiered in Colorado in 2019.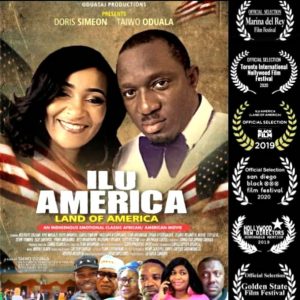 "Ilu America" is an indigenous and emotional classic movie that explains an immigrant's ordeal and its survival. The character of "Ade" in the epic movie talks about a well-to-do young man who went in search of greener pastures from Nigeria to America.
Unfortunately, upon his arrival in America, things began to go wrong with him. His thought betrayed him as a result of his misinformed intention and everything went wrong as all efforts to survive were futile. He was left with no other option apart from facing the ordeal of life as he struggles for survival, and hoping for better future, as nature had to decide his fate.
"Ilu America" is a Yoruba language movie -fully subtitled in English, and it is filled with suspense, intrigues, emotions, love and Action.
According to Amb. Cornel Udofia, "Ilu America" is proudly supported and being packaged by CMC Gladiators of Repute and Cornel Entertainment.