By Raymond Osho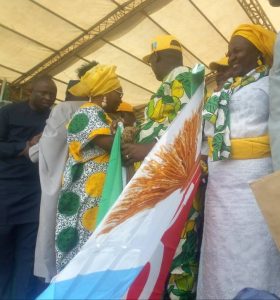 ABEOKUTA: The Governorship candidate of African Democratic Party (ADC) in the last election, Prince Gbeyega Nasir Isiaka and a former Deputy Governor, Alhaja Salmat Makanjuola Badru of the Peoples Democratic Party (PDP) on Tuesday, January 14, 2020, formally led the defection of thousands of party members to All Progressives Congress (APC) in Ogun.
Gbeyega, since the Governor of the state, Prince Dapo Abiodun was sworn in May 2019 has been working with APC while still a member of the ADC.
Prior to the defection, there had been speculation that Isiaka was having a romance with the APC even while in ADC that was why he accepted offer to be part of Abiodun's Transition Committee.
The Governor while receiving the mammoth defectors at the Ake Palace in Abeokuta, the State capital hinted that he had envisaged the defection, hence, he had reserved positions in his administration for new members, expressing readiness to extend appointment to them.
Abiodun who boasted that the APC was the only party that exists in the State, enjoined existing members to shun discrimination and embrace new members with love.
His words, "We are joining hands to build our future together, all those that are joining us today with those of us that have been here before, we are now joining hands to build the future of Ogun State together.
"It is important that we all appreciate each other, we all have our strength, we all have a role to play . If any body intend to join us, they know what to do . Nobody can pass through the back door , if you want to join us you'll pass through the entrance before you join us".
Prince Gboyega Nasir Isiaka in his speech noted that it's not about working with opposition party, but the most important thing is how to move the state forward.
His words, "The decision to serve was hinged on the urge to contribute to a Life of Abundance in Ogun State utilizing our God-given resources and potentials; ensuring a legacy of growth and development for today, ensuring equity and fairness in the State development stride and secure the future of coming generation.
"Our Movement is deeply Progressive in its ideological orientation with focus on progressive programme and policies such as human capital development (health and education), good wage policy, a functional and well-funded pension scheme, progressive economic policies, caring for the weak and vulnerable in the society (social welfare) and infrastructural development. It is gratifying to note that these same programmes constitute the cornerstone of the All Progressive Congress."
"I am happy to note here that we found alignment of values – which for us is fundamental for any political relationship. I saw in him, a man determined to run governance with sincerity and purpose. Among other shared values also, the Governor believes that the people must be the primary focus of any responsible government and that is reflected in his "Building our Future Together' mantra.
"More importantly, and despite the winner takes all of our politics and system of government, the APC in Ogun state through His Excellency, indicated strong resolve to have an inclusive and open administration that is receptive of other ideas and competencies. "
GNI added, "All our members have been sufficiently sensitized on their roles and responsibility as party members as they will from this week move into the APC ward meetings and conduct themselves creditably. I urge all members of the party to welcome our people across the State (among which few numbers were accredited as delegates to this ground today) with open arms and work together for the growth of this party and success of the government."