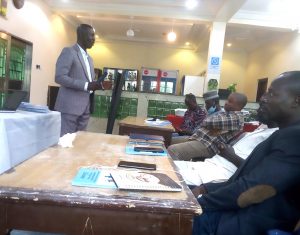 By AbuSatar Hamed
ABEOKUTA – Members of the Fourth Estate of the Realm in the South-West have commended Alhaji Aliko Dangote, President/Chief Executive, Dangote Group for supporting Journalists in Nigeria.
The commendation came as Dangote Group in collaboration with Folio Media Communication on Wednesday, August 25, 2021 in Abeokuta, the Ogun State capital, commenced a 3-Day Critical Media Workshop for journalists drawn from states in the South-West.
Speaking on behalf of participants Mr. Oluwasegunfunmi Olukoga of Silverbird Television and member of the Ogun State Council of the Nigeria Union of Journalists (NUJ) applauded the Groups efforts to empower journalists for better performance.
He noted that the workshop would in no small way benefits participants with a view at enhancing their professional performance.
Olukoga however called on other organizations and corporate bodies to emulate Dangote in his quest to further solidify his relationship with the pen profession.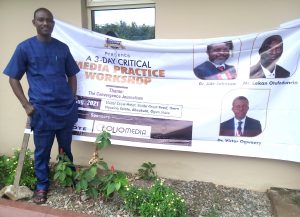 He also praised the facilitators of the programme – Folio Media Communication for initiating such laudable session for utmost performance of journalists in Nigeria.
In separate remarks at the official opening of the workshop with the theme: "The Convergence Journalism" Representatives of the organizers, Francis Awowole-Brown, Branding & Commercial, Dangote Group and Pius Alebi, Folio Media Communication explained that the workshop was aimed at helping the media organizations to improve the quality of their practice and also to build a better and robust relationship towards a sustainable media enterprise.
Taking participants through the first round of the workshop, Dr Victor Ogwezzy, Chief Responsibilty Officer, B2B Matrix Mgt Consultants said marketing in the media remained everybody's business without which no media organization could survive.
According to the resource person, journalists should be interested in the survival of the organizations they work for and should strive towards generating advertisement for the establishment.
Ogwezzy mentioned some newspapers which occupied the newsstands and made waves in the country years back, but had to close down due to poor business acumen, thereby throwing their workers into the labour market.
He said it was the job of every journalist to market the organisation's products for sustainable sales, and that practitioners must ensure that contents in their newspapers, radio and television were good enough to attract audience which would eventually bring advertisements and geeneate money for the organizations.
The seasoned resource personnel also noted that some media organizations' inability to pay salary of their workers could be partly attributed to lack of the importance of marketing in the media.
"Before a media organisation could break through, it must generate the audience through good contents that would attracts advertisements, saying you cant be a good journalist without being a good marketer", he said.
The workshop closes on Friday, August 27, 2021.