By Seyifunmi Odunuga
IBADAN – A Board Member, Nigerian Tourism Development Corporation and President cum Founder, Oodua Heritage Organization – Erelu Bolanle Kuku has expressed her gratitude to God for the success of OHIO Festival Launching while encouraging and admonishing descendants of Oodua not to let go of Oodua Cultural Heritage, but exhibit the rich cultural heritage both in home and abroad, saying, "selling our Cultural Heritage will not help, while other tribes are embracing theirs".
Erelu Kuku who has travelled extensively round the globe also said in her speech on the 7th day of the carnival at Agodi Gardens on November 29, 2020 that, "Time to go into a New phase in the anals of culture and Heritage. OHIO was founded to embrace Unity and progress, promoting the course of Oodua Cultural Heritage".
However, Erelu Kuku has been impacting through her wealth of experience in psychology, Human Relation and Resources which she has been projecting, empowering, with skills acquisition and trainings.
According to one of the special Guests who said Erelu Kuku has not only organize OHIO 7days Festival, but also make herself available inspite the situations in the country and the pandemic ravaging the countries of the world, and let us know that all precautions for Covid-19 are part of cultural presentations and heritage.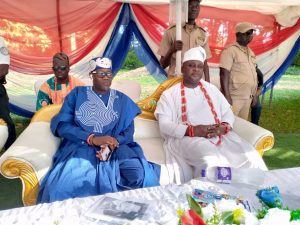 Revealing the zeal and passion for the general wellbeing of Oodua descendants, both at home and in the Diaspora, Otunba Chief Balogun said, "I saw a progressive forward looking founder who possess a dynamic and visionary leadership traits in Erelu Kuku, having operating a strong Oodua Heritage international organization, legally since 2019."
He however noted that "Our Culture is derailing, and it is high time we impact tomorrow, today "
Asides some side attractions from traditional dancers performances, sango display and many others that made OHIO 2020 carnival a colourful event, local and traditional dishes like amala with abula soup were dished out to guests and participants present at the event.
According to Barrister Yinka Oguntimehin, the Asoju Aare Onakakanfo of Yorubaland with other prominent personalities who were ably represented said that OHIO is the most significant factor of building healthy, inspiring, supportive relationships through cultural heritage of the Oodua people, thereby promoting the rich cultural heritage of Nigeria within and in the Diaspora.
Among other dignitaries present at the event include Hon. Akeem Ademola Ige, Special Adviser to the Governor (Culture and Tourism) Oyo State who also gave kudos to Erelu Kuku for having same vision like that of Gov. Seyi Makinde towards uplifting Culture and Heritage in Oyo state while pledging full support of the governor to OHIO.
Also, Hon. Adebisi Yusuf Oladeni, an energetic young political leader in Oyo State, and member of the House of Assembly Oyo State, representing Ibadan South West Constituency urge the youths to visualize Oodua cultural heritage, its historical facts and never allow Oodua cultural heritage to die.
Erelu Kuku however enjoin all descendants both at home and in Diaspora to embrace Oodua culture and heritage, same way she has used her substance as links for progressive projects in alleviating poverty.
She also said her OHIO together with her co-founder – Otunba Balogun of Are Ona Kakanfo 'Otunba Gani Adams provides a platform for job opportunities, engaging the youths with entrepreneurship trainings and skills acquisition.