By AbuSatar Hamed
IBADAN: Alhaji Abdul-Azeez Alade Marshal, first son of the popular Fuji musician who is also the Mayegun of Yorubaland, Alhaji Wasiu Ayinde Marshal, fondly called KWAM 1 has dispelled the rumour making rounds that his father is having secret affairs with the younger wife of Alaafin of Oyo, Oba Lamide Adeyemi.
Abdul-Azeez, while speaking with StarTrend Int'l magazine in Ibadan, the capital city of Oyo State, pointed out that people behind the allegation were his father's enemies who have been envying him (KWAM 1) since his installation as Mayegun of Yorubaland, saying the allegation is baseless and meaningless.
According to Abdul-Azeez, "The alleged secret affairs between my dad and the Queen of Oyo Kingdom are nothing, but fallacy and imagination of the enemies of my father, who have been after my dad's success in his chosen field.
"Also, the truth is that since my father was installed as Mayegun of Yorubaland,these lazy minds have been jealous his giant slide in the land.
"Honestly, the rumor is a calculated attempt to put my dad in coalition with Baba Alaafin who in his magnanimity chose KWAM 1 as the best Yorubaman for the exalted title of Mayegun of Yorubaland."
.       The Beere of Wasiu Ayinde Marshall further stated that, "To me, the enemies have always harassed him and this time around, they don't want him to rest and they too shall not rest till eternity".
Abdul-Azeez however assured his father that "come rain, come, sunshine, even come harmattan" he would always have his support and that of his siblings, adding that the allegation was unfounded and that KWAM 1 should not lose sleep over the issue.
His words, "My dad has my full support always, and that of my siblings, because he is responsible and God-fearing Yorubaman who respected culture and tradition. We his children know him to be a man of integrity and upright.
"The allegation is unfounded and it's sure my dad will not lose sleep over that. It's not going to be an issue for him and as a united family, we will always support him.
"As a united family, we are stronger, we are formidable. As his son, I will always rise in his support".
Abdul-Azeez,  further pointed out that, his father as custodian of Yoruba culture and tradition and someone that has maximum respect for the palace of Alafin of Oyo would never engage in such act.
"As the Mayegun of Yorubaland, my dad knows the tradition of Yoruba and what the tradition entails. So, he will not do such a thing. He has respect for the palace of Alafin and coupled with his starling performance as an outstanding Fuji musician, known home and abroad, he will never engage in such barbaric act."
Fielding a question, Abdul-Azeez said, "I know that God is in control, and my father will surely overcome this satanic rumour. So, I'm not bordered about it and I think my father knows how to deal with these individuals involved in this type of situation".
Reacting to the allegation, the celebrated Fuji music crooner, KWAM1 has vehemently denied the allegations that he was having an extramarital affair with Queen Badirat, one of the youngest Queens of Alaafin of Oyo, describing it as useless claim.
KWAM1, who was recently given a title by the Alaafin of Oyo, Oba Lamidi Adeyemi, as the Mayegun, added that the claim was wishful thought of his critics that were against his new title.
In a statement e-signed by his media adviser, Kunle Rasheed, Wasiu Ayinde Marshall said the allegation is untrue and promised to take legal actions against those who published it.
"Let me categorically state that the rumour is lies concocted from the pit of hell by those whose aim is to drag to the mud, the name of K1 De Ultimate and ultimately that of the most revered kingdom in Yoruba land.
"These agents of Lucifer have continued in their warped delusions to see K1 go to the ground just for being conferred with the title of Mayegun of Yoruba land," KWAM I posited.
He stated further: "Let me remind the rumour mongers that Nigeria has adequate laws to bring anyone who has embarked on character assassination of the innocent to book. The fans and the general public should be rest assured that we will legally seek redress for this allegation.
In her own comment to the rumour, Olori Badirat Ajoke, wife of the Alaafin, Oba Lamidi Adeyemi, who spoke with a US-based Nigerian, Aare Almaroof Bobagunwa Yekini in a phone conversation, emphatically denied the story, and she swore by all the Yoruba gods and the orisas of the Alaafin's palace.
She asked the gods to punish her if she ever had any affair with KWAM 1.
Olori Badirat Ajoke said the rumour mongers, which include Instablog and Chirp Television, had published all manners of falsehood about her in the past.
In another development, it was gathered that the marriage between Alaafin Of Oyo and his wife, Olori Ajoke is intact 
According to palace sources, it was confirmed that Olori Badirat Olaitan Ajoke; "Is a well cultured, trained and respectful. She has never had any issues with her senior queens in the palace. She is a peace loving individual and also a religious person who does not joke with her creator through prayers".
It was also scooped that, nothing of such ever happened as "Olori Badirat has never been disloyal to her husband and it's a fact that can't be contested. It's the work of her enemies and those who wants to create unrest in the palace. To be truthful, her marriage to Alaafin is still intact.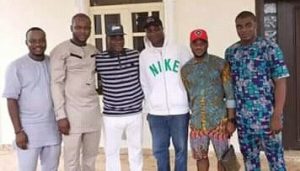 "There has never been a time she was sent parking as it was circulated. She will never commit such act knowing full well of the consequences that might follow," observers of the scene said.
Another source further added that; "Queen Ola has remained unperturbed since the peddled rumour fueled against her on social media went viral. It's totally fake and should be disregarded with disdain.