ILARO-YEWA – The Plant Director, Dangote Cement, Ibese-Yewa, Mr. Nawabudeen Azad, has said that the organisation is resolute on its target towards zero fatality across the entire value chain of Dangote operations.
Nawabudeen disclosed this at the maiden edition of Road Safety Awareness Campaign, themed, "Use Road Like Person Wey Sabi", organized by Dangote Cement in collaboration with the Federal Road Safety Corps (FRSC) to achieve a zero fatality across the entire chain in the operations of Ibese Plant.
Speaking at the campaign which was held at the premises of Dangote Cement, Ibese Plant on Thursday, December 9, 2021, the Ibese Plant Director noted that "Dangote Cement Plc is committed to ensuring safety of lives and properties within and around its operations, on the road and its host communities.
"We are resolute on our target of zero fatality across the entire value chain of our operations".
Nawabudeen disclosed that the Company's partnership with the FRSC has been beneficial to the organisation and the host communities, adding the Corps have been actively involved in the recruitment, training, and monitoring of Dangote's drivers' activities.
His words, "Our partnership with the FRSC as an agency of Government with responsibility for ensuring safety on our roads has been extensive and valuable. In conjunction with our organic safety experts, the Corps has been actively involved in the recruitment, training and monitoring of our drivers' activities, and to a very large extent, this has paid off as we have been witnessing great improvement ranging from better driver's attitude to reduced fatalities and so much more. We are therefore delighted to have them on board this initiative."
He urged the Company's truck drivers, the motorcyclists and drivers of light vehicles operating around the Plant, the people of the communities to always embrace safe and considerate use of the roads, at all times.
"Our messages, which are directed at our truck drivers, the motorcyclists and drivers of light vehicles operating around the Plant, beloved members of our communities and other road users centered on the need to embrace safe and considerate use of the roads, at all times and in all places, while driving and when parking.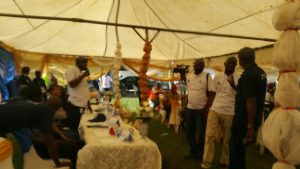 "I hereby enjoin all these actors on our roads who are well represented here today to learn and imbibe necessary tips to improve their use of the road in a professional manner and help cascade the safety messages to their colleagues who are not at this event.
"Earlier this morning, we had taken the road safety campaign to our neighbouring communities via road shows coordinated by FRSC and our employee Volunteers in recognition of the communities as our key stakeholders and partners.
"I am glad that the messages were well received and it is our hope this will drive some attitudinal change in the way we use the road."
Mr. Azad stated further, "Let me use the opportunity of this gathering to inform all stakeholders that Dangote Cement's commitment to the socio-economic development of our host communities is unwavering and we will continue to complement the efforts of Government in making the society a better place for all.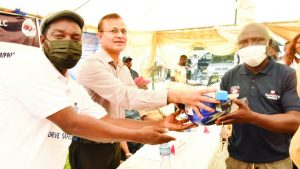 "Permit me to also state that our expectation from all who are engaged in lawful businesses in and around Dangote Cement Plant, Ibese is that they comport themselves, embrace peace at all times and shun anything that can disrupt the harmonious business environment."
The Plant Director expressed appreciation for the hosting community's support, saying, "Distinguished Ladies and gentlemen, I thank you most sincerely for your all important roles in different areas that have seen Ibese Plant thus far in the year 2021, as we look forward to continuous improvement in our partnership in the coming new year and beyond".
Dignitaries and associations present at the interesting and educative event include Hon Gabriel Ogunyomi (Chairman, Yewa North Local Government), Hon Sikiru Adesina (Chairman Ewekoro Local Government), Representative of Ogun State Ministry of Transportation and Chairman, National Youth Council of Nigeria, Ogun State Chapter,
Others are Executives of relevant Trade Associations such as RTEAN, OGSPAM, ROMO, AMORON & ACOMORAN, leaders and representatives of hosting communities, colleagues from Dangote Group (Cement, Transport, Packaging) and members of the pen profession.
The event was enliven with an educative and interesting drama sketches put up by members of the Youth service corps, serving at Dangote Cement, Ibese plant.