REMO NORTH: A novel approach and unique method of collecting and increasing Internally Generated Revenue earnings, worthy of emulation by other Local Governments, has been introduced by the Chairman of Remo North Local Government, Isara, Hon. Abiodun Somoye, by ways of Communication, Human Capital Development and Motivational Incentives, not only limiting to the, hitherto, contractual percentage/commission agreement, with the existing collecting agents, but by an extention, to the LG staff and departments, directly responsible for such IGR collections, in Remo North Local Government, Isara.
According to a release e-signed and made available to StarTrend Int'l magazine & www.startrendinternational.com by OLADIPO Oluwole, Director of Information, Remo North LG, Isara, Hon. Somoye, at a stormy session with the Transition Committee Members, HOLGA, Directors & Heads of Department, (HOD), in his office, revealed his well articulated plans, towards increasing the local government IGR, including, but not limited to the followings; IGR projection & status, Identifying IGR
points/sources, LG Assets within & outside, LG Creditors/Debtors, Landed properties, Monitoring the operational wherewithal of the local government IGR Task Force & Blocking the identified leakages, in the Revenue Collection Pipelines, amongst others.
The Chairman said, the notion that " Government has no business in business" held sway because of bureaucracy, stereotype & lack of innovation, promising to bring his wealth of experience, in the private business entrepreneurs, over the years, into the LG governance, especially in the area of IGR, by adopting the followings; Effective/Efficient direct weekly communication & appraisal of targeted goals with the LG staff, especially, the first LG administrative & operational management point, that is, the conglomerate of the HOLGA, Directors & HOD, and Identifying area of distinction between contractual & direct revenue sources, in order to advance the course of knowledge base, suitable for different revenue collectors, for public civility, humility & accountability.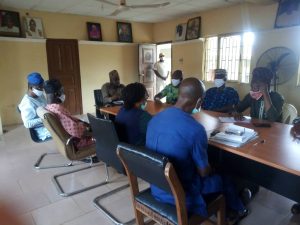 He, therefore, promised to put human face into the LG revenue generation & collection, by introducing incentives to those LG workers/departments that are directly involved, on reaching certain collectively agreed established targeted amount, as part of the percentage for their efforts, in order to motivate them for better performance, in revenue collection increase & earnings.
Hon. Somoye, finally, assured Remo North LG general workforce of better welfare parchages & improved working conditions, admonishing them to always be punctual, productive & committed to their duties, for the necessary development & progress at the grassroots.