…As Foremost Business Mogul, Laid To Rest In Grand Style, Dignitaries Bid Him Farewell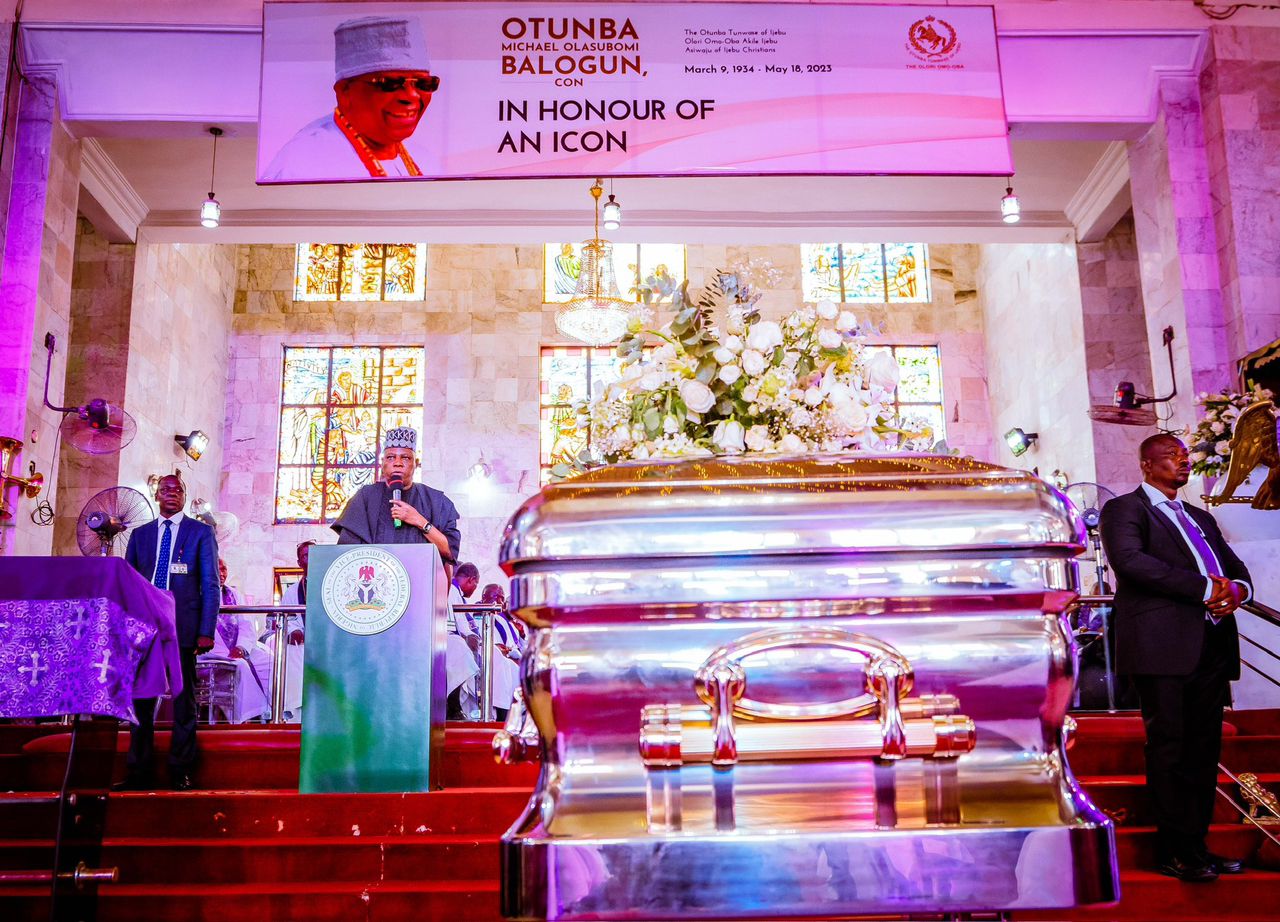 IJEBU ODE – President Bola Ahmed Tinubu has described the founder of First City Monument Bank (FCMB), the late Otunba Michael Olasubomi Balogun as an institution in the Nigerian banking sector and a model for generations of bankers and lawyers, among other professionals.
In his tribute, delivered by Vice President Kashim Shettima who represented him at the event, President Tinubu also described the late FCMB founder as a banking icon "who was everything our ailing world desired."
Recalls, remains of the founder of First City Monument Bank (FCMB) and a renowned philanthropist, Otunba Michael Olasubomi Balogun was commited to mother earth on Saturday, July 8, 2023, at his residence, Otunba Tunwase Court, Ijebu Ode, Ogun State.
Speaking further about the deceased's virtues and impact, the Vice President said the late Otunba Balogun was "a philanthropist extraordinaire and departing from this world at age 89 is a gift that only a few have benefited from."
According to him, "he not only immortalized your industrious spirit as the founder of the flourishing First City Merchant Bank, which we all know as FCMB, but the world is going to remain grateful to him even much longer than he lived.
"We are here to celebrate life. As he peacefully departs from this earthly realm at the remarkable age of 89, we lift our voices in prayer, offering our heartfelt appreciation for the profound impact he made during his time among us.
"So, this is more of a gratitude to the Almighty God for bringing such a noble person to our world and changing the course of our history."
The VP then condoled with the Balogun family, government and people of Ogun State and offered prayers for the departed elder statesman.
He said, "Our dear people of Ijebuland and the Ijebu Christians, must be grateful for the personality you have raised for the nation and the world.
"In this moment of farewell, we ask for your divine comfort and solace to embrace the loved ones and friends of Otunba Balogun. May they find strength in the shared memories, and may their hearts be filled with gratitude for the privilege of knowing and being touched by such an extraordinary individual.
"May Otunba find eternal rest in your heavenly abode, and may his legacy continue to inspire generations to come."
In his remarks, the Governor of Ogun State, Prince Dapo Abiodun going down the memory lane said late Otunba Michael Balogun was a prodigious intellectual, an economist and lawyer who attended the Igbobi College, Yaba, Lagos before proceeding to London School of Economist to read Law in 1956.
He said late Balogun worked in the banking sector first, as the Principal Counsel and Company Secretary to the Nigerian Industrial Development Bank (NIDB) and held many positions in the sector before he founded the First City Monument Bank (FCMB).
The Governor also said, "In 1989 Late Michael Balogun donated the newly built and fully equipped General Hospital to Ijebu Ode."
At the funeral service held at the Cathedral Church of Our Saviour, Ijebu Ode, Ogun State, which was attended by several members of the late Balogun's family, friends and well-wishers who travelled from different parts of the world to honour the deceased and his family, Bishop Michael Olusina Fape, the Archbishop of the Ecclesiastical Province of Lagos (Anglican Communion), extolled the excellent qualities of the foremost business man and called on all to emulate.
The Archbishop extolled the virtues of the deceased, as well as his legacies in different sectors, including health and education.
In his sermon titled, "The Righteous would be Separated from the Wicked on the Judgement Day", Most Revd Fape, urged people to live a righteous life and impact their communities, states and nations positively.
Archbishop Fape also called on the people to do good at all times and be ready to give account of their stewardships saying, "The body is merely here, the soul has gone to the Lord.
"The message is for you, the message is for me. Get prepared to reign with God in His eternal glory, or be bundled into eternal hell where there will be gnashing of teeth and everlasting fire at the end of the day."
He described the late Balogun as a friend of the Church, who contributed positively to the Church, while urging family of the deceased not to allow Balogun's name to go into oblivion.
Prominent guests at the service were the Vice President, Ibrahim Shettima; who arrived in company of the Governor of Ogun State, Prince Dapo Abiodun.
The burial rites of the former banker started on Monday, July 3, 2023, when the Nigerian Exchange Limited, in partnership with the Chartered Institute of Stockbrokers and other capital market stakeholders, held a commemorative mock-trading session and closing gong ceremony in honour of the deceased.
At the ceremony, the Chief Executive Officer of NGX, Mr. Temi Popoola, recognised the contributions Otunba Balogun made to the industry.
His words, "We gather here today to pay tributes to an individual without whom our markets would not be what they are today. Countless careers were influenced by his guidance, including mine. His impact on our industry's growth was immeasurable.
"The Balogun family is a shining example of excellence on the Exchange, and we extend our heartfelt appreciation."
Others who spoke at the event include the Chairman, NGX Group, Umaru Kwairanga; Group Chief Executive Officer, NGX Group, Oscar Onyema; and the President, Chartered Institute of Stockbrokers, Oluwole Adeosun.
On Tuesday, July 4, 2023, people from different walks of life attended a 'Night of Tributes' organised in Otunba Balogun's honour.
The opening prayer was said by the Senior Pastor of the Trinity House Church, Victoria Island, Lagos, Ituah Ighodalo; while a veteran broadcaster and producer, Bimbo Oloyede, hosted the event.
In his tributes, the founder of Guaranty Trust Bank, Fola Adeola, described Balogun as a 'visionary'.
He said, "In commemoration of the remarkable life and contributions of Otunba Olasubomi Balogun, this tribute serves as a testament to his legacy as a visionary business leader and educated philanthropist.
"Through his entrepreneurial spirit, strategic acumen and unwavering commitment to societal development, Otunba shaped industries and transformed men.
"Today, we honour his exceptional achievements, and remember the indelible mark he left on society.
"He was a champion for education. Recognising its transformative power, Otunba prioritised investing in human capital development. He established a foundation which implemented various initiatives to enhance access to quality education across the country.
"This effort enabled countless aspiring young minds to pursue their dreams and contribute to national projects."
On his part, the founder of Stanbic IBTC Bank Plc, Atedo Peterside, noted that Otunba Balogun left a legacy through the lives he impacted, saying, "Everybody talks about legacy, but not everyone has a legacy.
"Otunba Subomi had a legacy. He was dogged, confident and knew his rights. If he was not stubborn, he would not have got a bank license."
Other guests at the 'Tribute Night' were a billionaire businessman, Razaq Okoya and his wife, Shade; real estate mogul, Olu Okeowo and his wife, Adejoke; prominent banker, Tony Elumelu and wife, Awele; as well as a former Governor of Ogun State, Ibikunle Amosun, among others.
On Wednesday, July 5, 2023, there was a Service of Songs and wake at Harbour Point, Victoria Island, Lagos.
One of the highlights of that event were the tributes given by the deceased's first grandchildren (a twin boy and girl), who stated that they turned 26 years old on the same day he died.
A former Head of State, Yakubu Gowon; and a former Governor of Ogun State and incumbent Senator representing Ogun East Federal Constituency, Gbenga Daniel, also spoke at the event.
The series of events continued on Thursday, July 6, 2023, with a Commendation Service held at the Cathedral Church of Christ, Marina, Lagos. Like the other events, it was also well attended by family members, friends, well wishers and employees of FCMB.
The late Balogun's casket was displayed at the venue, with many paying their last respects.
The first Bible reading at that service was taken by the first son of the deceased, Bolaji, while the sermon was given by the officiating minister, Johnson Akinpelu.
During the sermon, Akinpelu recalled some of the encounters he had with Balogun in his lifetime.
He said, "Otunba was a man who stood for peace, and I say this because during my tenure here as Provost, in the midst of the many trials and tribulations I faced, he was a great encourager. I had never asked to see him and got turned down. He was a wonderful man, who encouraged me a lot; not only through his advice but also by the works he did in the Cathedral."
The funeral was attended by many dignitaries including former Head of State Gen. Yakubu Gowon; Governor of Lagos State Babajide Sanwo Olu; former Governors of Ogun State, Aremo Segun Osoba, Senator Gbenga Daniel, and Sen. Seriake Dickson, former Governor of Bayelsa State.
Others were former Secretary-General of the Commonwealth Nations, Chief Emeka Anyaoku, Chairman of Dangote Group, Alhaji Aliko Dangote; Philanthropist, Mr Femi Otedola; President African Development Bank, Dr Femi Adesina; Afenifere Leader, Chief Ayo Opadokun, first class traditional Rulers and Bishops of the Ijebu Anglican Diocese, Church of Nigeria, Anglican Communion, among others.
Others in attendance included former and present public office holders, politicians, captains of industry, bank executives, bishops, priests, traditional rulers and leaders, family and friends of the deceased home and abroad, management and staff of FCMB and people of Ijebuland, as well as sons and daughters of Ogun State, were at the funeral service to bid Otunba Michael Olasubomi Balogun farewell.
It would be recalled that Otunba Michael Subomi Balogun who was the Olori Omooba of Ijebuland and the Asiwaju of Ijebu Christians passed on at the age of 89 in London, England on Friday, May 18, 2023.