LONDON UK – A former Nigerian High Commissioner to Zambia and Malawi, Ambassador Ibironke Adefope, on Wednesday, February 23, 2022 clocked 70 years in this world of rat race.
Just as she celebrated her golden birthday 20 years ago, in faraway Lusaka, Zambia in 2002, the ever-cheerful Ibironke, chose to celebrate her turning a Septuagenarian in London, United Kingdom with her family and close friends.
Born on February 23, 1952, in Ibadan, Oyo State of Nigeria, her beloved hometown, to the illustrious Vaughan and Akinloye Egunjenmi clans, little Ibironke Apinke Opoo, after her primary school education, attended the reputable Saint Anne's School, Molete, Ibadan, then the capital of the now-defunct Western Region of Nigeria.
Little Ibironke Apinke also attended the International School of the University of Ibadan, (ISI) for her Advanced Level studies, after which she travelled to the United States of America (USA) for her first and second degrees.
Celebration of the 70th birthday took place in West London, on Wednesday, February 23, 2022, and was graced by creme of the society.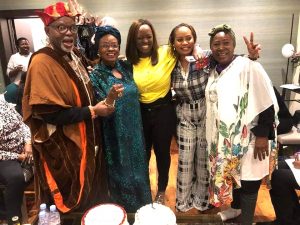 They include High Chief 'Lekan Alabi, Maye Olubadan (designate) and the first Culture Ambassador of the National Museum and Monuments, Ile Ife, Osun State, who compered the ceremony, as was done in Lusaka, the celebrant, Ambassador Adefope's younger daughter, Ms Tara Adefope, Director-General, Due Process to the Oyo State Government of Nigeria, Ms Fatmat Arisekola-Alao and Princess Bolade Adegboyega-Conde, a bosom friend of the celebrant among others.
StarTrend Int'l magazine & online – www.startrendinternational.com wishes Ambassador Ibironke Adefope many happy returns of the day in good health and long life.