A suspected kidnapper was arrested in the early morning of Monday August 27, 2018 around Orita-Obele Estate, along Roadblock, Akure, Ondo state.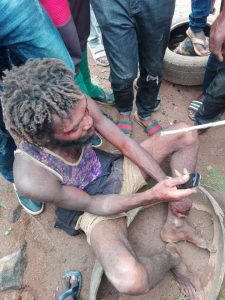 It was gathered that the suspect was caught by some good Nigerians who have been on his trail for about two weeks. The people suspecting him to be a kidnapper alleged that the suspect was just pretending to be a mad man all this while. By the time he was confronted by people of the area, it was learnt two mobile phones were found on him.
As he was being drill by the people the suspected kidnapper confessed that, "he is from Edo state and has been kidnapping in Akure for sometimes now. But he refused to mention the names of those he's working for."
Not satisfied with his defense, and as the people were about to set him ablaze, the police just arrived the scene and took him to Okuta-Elerinla Police Station, Akure where he's being interrogated.